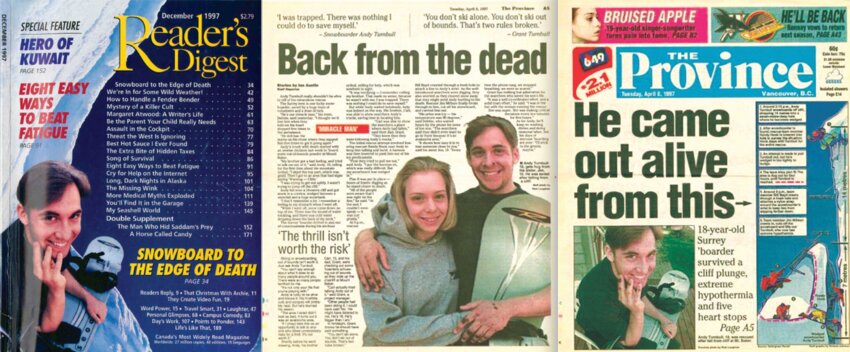 By Oliver Lazenby
Longtime Mt. Baker Ski Area patroller Randy Hook undoubtedly altered many lives before he died of a heart attack on the slopes on January 1, 2017. After Mount Baker Experience published an ode to Hook by Maya Hunger in our spring issue, one of those people reached out wanting to express thanks for sharing Hook's story.
The spring story briefly mentioned a 1997 rescue in which Hook played a lead role. That story made it all the way to Oxford, England, where it found Andy Turnbull, the victim in that rescue 20 years ago.
Since then Turnbull has started a family, worked as a pastor, and he's now pursuing a doctorate of philosophy in theology at Oxford University. None of that would have been possible without Hook, who found him 20 feet deep in a hole out of bounds at the Mt. Baker Ski Area on March 31, 1997.
"Randy put his life in danger to save mine when he descended into that hole," Turnbull said. "It wasn't as if he was not at risk."
After ducking the rope line on Chair 8 on his last run of the day, Turnbull, an 18-year-old at the time, ended up on top of a cliff in an area known as Gordy's Gulch. He tried to traverse the cliff, but slipped on ice and fell about 40 feet to the snow below, where he punched through the surface and fell another 20 feet into a hole at the base of a frozen waterfall. His body wedged into the hole like a cork, and his board anchored him in position; he couldn't move.
Turnbull's brother Carl and father Grant, who had elected not to join him out of bounds, knew something was wrong when he didn't turn up at the meeting spot. Hook and the rest of ski patrol swept the hill but saw no signs of the young snowboarder. Hook had a nagging hunch, according to the 1997 Reader's Digest article by Lynne Schuyler – he hiked up to the base of the cliff, found a hole, and shouted into it.
Turnbull replied.
Rescuers rigged a pulley system and Hook climbed into the hole to affix a rope to Turnbull's wrists, but Turnbull didn't budge. By the time several dozen ski area employees – including lifties and lodge staff – had moved the roughly 10 tons of snow it took to tunnel to Turnbull, he was hypothermic and unconscious, with a faint pulse. He emerged from the hole six hours after falling from the cliff.
Turnbull's heart stopped five times on the way to the hospital, but each time paramedics shocked it back into action. His core temperature registered 80.8 degrees Fahrenheit when he arrived at Peace Health in Bellingham. Apparently, Hook found Turnbull just in time.
He recovered completely, and left the hospital four days later to return home to White Rock, BC. The ordeal guided Turnbull toward religion, he said, which has shaped his life since the accident.
"I look at it as a great gift from God that I was rescued," Turnbull said in a phone interview. "I see it being such a gift that Randy was involved that day. He was such a dedicated servant. He really gave his whole adult life to serving on that hill."
Turnbull's rescue was just one day in Hook's nearly 50-year career on the mountain.
Learn more:
Andrew Turnbull's personal account and reflection on the accident, written on its 20th anniversary:
Reader's Digest, Snowboard to the Edge of Death:
https://www.youtube.com/watch?v=2g7_yzShiUk&feature=youtu.be