BOWRON LAKES
Story and photos by Jason Hummel
Take in the sights and sounds while canoeing the iconic circuit.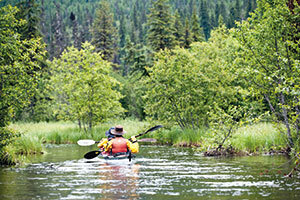 Places have their sounds. They travel wherever you go. When an owl hoots, memories of desert canyons above Death Valley are awakened. When honking horns blare, flashbacks of my adventures in the streets of Peruvian towns enter my thoughts. Or now, after eight days on the Bowron Lakes circuit in British Columbia, the great northern loon's bone-chilling haunting wail will forever bring my thoughts back to the ten lakes, five rivers and 116 kilometers of dipping paddles, gurgling canoe bow waves and magical wilderness views we encountered on the iconic Bowron Lakes canoe circuit.
July 26
"The car goes where the eyes go," according to Enzo, the dog in the book "The Art of Racing in the Rain." The same can be said for portaging a canoe. After attaining permits purchased months beforehand, having our canoes weighed and gear inspected, we began our adventure with a portage. I'd never before portaged a canoe.
What appeared easy was made more difficult with massive packs that caused us to curse gravity with each knee-creaking, shoulder-crushing step. Restrictions on what could be carried in the canoes meant that most of our gear was on our backs. While a fastidious person could whittle it down to the necessities and carry nothing, we could be accused of no such attempts. Our loads were gigantic.
Feet grinding into the dirt, Juya and I hauled our canoe with all of our strength past the ranger station and eventually to the first water at Kiblee Lake. Once on the downhill, our canoe wheels allowed us to easily roll down to the water.
Of course, that is only if the wheels didn't come off or
become crooked and steer the entire load off the trail into the forest. Did I mention the mud?
Gliding.
That's what I think of when canoeing. The first lake was very small so we glided across it in moments. The other side was the beginning of another portage that brought a quick end to our gliding. Slipping out of the canoes, we rushed to sort all the gear, tie on the wheels and heave-ho the entire load up the mud-laden trail, earlier dosed in heavy rains. Add in the blood-sucking bugs that ate our faces, necks, and feet (with a promise to finish the rest of us later) and you have a recipe for adventure.
The water was our escape. From the instant our canoes were in the water, this time on Indian Point Lake, the bugs were left behind. With the view so pristine and the air so fresh, you could taste the wilderness surrounding us, from snow capped mountaintops to the forested hills. With our canoes bumping into each other, we sat in the middle of that second lake and watched a rainbow arc across the water through squalls of rain and dark clouds. Looking at Juya, I said, "This is just how I imagined it."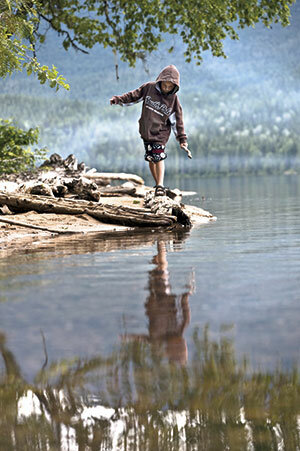 July 27-28
My nephew Calin is going to grow up to be a fishing guide, no doubt about it! On Isaac Lake, after another muddy portage, Calin was fishing from the center of his parents' canoe. Somehow I imagined that this was the best trip of his life. He gets to fish all day long. Of the entire circuit, Isaac Lake is considered the best place to fish, but I'm sure Calin already knew that.
Rising wind and waves convinced us to move ashore and find camp. We ended up paddling back to a shelter at Wolverine Creek where we would spend the next two days. Highlights included paddle carving. This is where one carves a miniature paddle and hangs it from the rafters of the shelter. From the many that were strung up, I could guess it was a Bowron Lakes tradition. Juya and I wrote our names and the date and drew mountains, fish, hearts and stars, then colored them all before cutting some string and hanging ours in the rafters with all the others. I even added a short poem: Rain and bugs, dripping and slapping, a cry and hugs, canoeing and paddling.
Another highlight was our first moose sighting. If you don't already know, moose are the largest members of the deer family. They can stand over seven feet at the shoulders and weigh over a thousand pounds! The sound of a bull moose shaking his mane helps you realize how big and strong these animals really are. While simply seeing one is exciting, watching one prance right past our camp was a treat.
That night we went to sleep to the sound of thunder and flash of lightning. The ever-present pitter-patter of rain on the tents added more sounds. Although I'm all right falling asleep to rain, the deepening puddle beneath our tent wasn't all right. I commented to Juya, "So how do you like our new waterbed?" We were out moving the tent a short time later, but even more rain made the effort seem fruitless.
July 29
After paddling 30 kilometers up Isaac Lake, I am convinced that hiking the same distance is easier. But when the cold rain finally stopped and the sun came out, all our weariness dissipated. Juya and I stopped before the end of the lake and bathed in the sunrays. With our sun hats pulled down around our brows, there was no reason to rush.
Once ashore, while the kids caught toads, the adults pitched camp, filtered water and prepared dinner. The daily duties were becoming second nature. Many of the same people with whom we'd been leapfrogging up the lake were there as well. While the adults traded stories and discussed their adventures so far, the kids let the toads go free and settled down to a game of 'go fish.'
CAMP LIFE HAS ITS CHARMS.
July 30
From the rangers and books, you will hear a lot about the Chute and Roller Coaster, two rapids on the Isaac River. Although broken canoes line the waterway, there really isn't much to worry about. As a former Class V kayaker, moving water was an appreciated change of pace and not just for me. Everyone loved it! There are signs that mark the portage routes. One huge sign pictured a canoe going over a waterfall. It warned, "Danger: Waterfall ahead." Indeed, there were waterfalls ahead. We used to have a test in kayaking called the 'spit test.' If you couldn't spit, you portaged. I know that no one would've passed the 'spit test' here! The drops were boulder-riddled, sieve-infested and log-choked rapids that would inspire nightmares.
Leaving the Isaac River, the portage route brought us to McLeary Lake. Along the lush green shore, a moose waded through the marsh grass, pulling up tufts of it every 30 seconds or so. She'd look around at us before diving her head back down into the murky lake waters.
Fifteen minutes later, while paddling away from the moose, a mother duck and her trailing chicks forced us to back paddle our canoes. You never know when you might come up to a crosswalk for ducks!
A meandering river continued after McLeary Lake, eventually bending into Lanezi Lake. From the shores of this latter lake, in every direction thick pine trees suffocated the shores, increasingly thinning toward snowbound mountain tops. Between rain squalls, we pitched tents, prepared food and fetched water as we settled down … again! … into a "rain sleep." The pitter-patter of droplets was familiar by then.
July 31
Despite the rain, we were constantly treated to a visual feast on the route between fog-shrouded peaks from which dozens of streams flowed. From loaded canoes, we pushed off into the cool morning air. Rain squalls followed us through half the morning. They continued across Sandy Lake and into the Caribou River. By that point skies were clearing. Had the sun we had been hoping for finally arrived?
Our next camp after a short day of canoeing was Unna Lake. After making a big fire, everyone jumped in their canoes. Across the lake was a trail that leads to 75-foot-high Caribou Falls. As one of the few trails in the entire park (the lack of which on the circuit was a huge disappointment for us), we wanted to be sure to enjoy it. The trail made for a wonderful run, but seeing the falls induced a tree-hugging, drunk-with-fear sensation. The ground literally shook under our feet.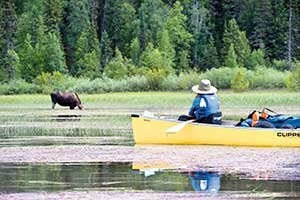 Another run back to the canoes put us all in position to witness the best sunset of the entire trip. There was no hurry now. We didn't paddle or say much until Juya motioned and said, "A rainbow!" It was a moment to breathe in and hold onto as long as we could. There's not a much better way we could've ended our sixth day.
August 1
"Ah, the Sun," we sighed the next morning. It was the first day we didn't wake up to rain and the last day we'd have to portage. Most importantly, though, it was Juya and my first year anniversary. Nestled in my bags were earrings and a matching pendant I'd been attempting to hide from her for the past week. After reaching camp some hours later, a few minutes before everyone else, I surprised her with the gift. I found the perfect place on a narrow spit of land set between Spectacle and Swan Lakes. It was only a few feet wide and offered views across both lakes and into the forests and mountains beyond. Once I had given my present to her, as she put the jewelry on, her smile became as bright as their sparkles. "Happy anniversary, Juya."
Since I love photography, Juya gave me a signed copy of a photography book on the Bowron Lakes. It was a perfect gift.
August 2
From my journal I read, "There is just the splash of water, drip, drip, drip and repeat." Canoe life takes a certain amount of patience, a doctrine that incorporates hours of wandering thoughts and nature gazing. Entertainment is like a slowly brewing tea, at times taking days to percolate before it is ready.
Perhaps some of us realized our joy by the last day as we crossed Swan and Bowron lakes to arrive back at the beginning. Even if the rain had drenched us throughout our eight days, there were still moments of bliss. One of the highest highs came when a bull moose swam near the bows of our boats as it crossed the Bowron River. Framed by snowy mountains, how could
I forget this moose that created such a perfect moment?
As we pulled our boats onto shore for the final time and stretched our legs and arms, we thought of all those special moments. The sounds affected me too, especially the haunting wail of the great northern loon, but there were many more that remain with me to a lesser extent. If you go, when you come back home and when you reminisce about your own adventure, there will be a specific sound that will echo in your memories. An eagle perhaps? The roar of waterfalls? The tap dance of rain? No matter, you will know it and when you do it will bring your thoughts back to the 10 lakes, five rivers and 116 kilometers of dipping paddles, gurgling canoe bows and magical wilderness views that you encountered on the iconic Bowron Lakes canoe circuit, just as it does us.
Happy travels and a big thanks to all who joined. X
<-- Previous Article Home Next Article -->