By Oliver Lazenby
Five years ago, Brandon Fralic and Rachel Wood noticed a lack of travel guides that combined their favorite things – hiking trails and breweries. They knew they weren't alone in their enthusiasm for getting outside and enjoying a beer at the end of the day. So, with their background in photography and creative writing, they decided to write the travel guide this corner of the world was missing.
They started a blog called Beers at the Bottom in 2013 and after years of seeking out
breweries and hikes they published their first guidebook this spring, "Beer Hiking Pacific Northwest." The full-color book features 50 hikes and breweries, with descriptions of trails and tasting notes for the accompanying local brews. It has something for everyone, whether that's a short stroll or a lofty summit, a mega-hopped IPA or a vanilla cream ale.
Mount Baker Experience: How did you start writing about beer and hiking?
Rachel Wood: We were browsing the hiking section in Village Books one rainy day five years ago. Brandon noticed they had a book for creaky knees, a book for hiking with your dog, a book for hiking with kids – and then in the next row over there were a bunch of beer and wine travel guides. He said, "Where's the beer and hiking? That's what everybody does here and there's not a book for that. We should write it."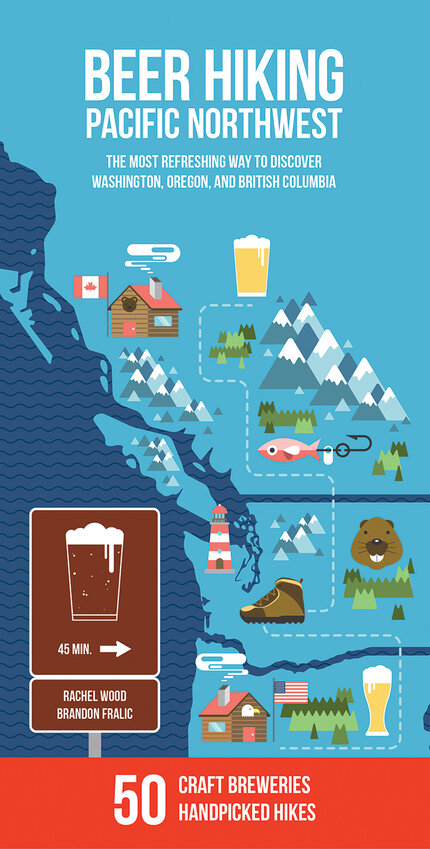 Brandon Fralic: Beer and hiking is what we were doing at the time. We would go for a hike and then we would go to the nearest brewery afterward and have a beer. I was ready to jump right in with writing a book, but we decided to start a blog first.
Wood: We had done a little bit of writing together at that point. Brandon was taking photos and I was writing live music reviews for What's Up! Magazine, so that's how we first started collaborating. I was going to grad school for creative writing and late nights weren't working for us anymore. We had started doing a lot more hiking and getting outdoors more, and getting more into beer.
Fralic: When we traveled, we would hit up as many breweries as possible. We just loved going to breweries and trying new beer.
Wood: So we started the blog as a platform to show off our writing. It was the book proposal in blog form. From there we pitched a "hikes and brews in Bellingham" piece to Washington Trails Association's magazine and it just snowballed from there.
The northwest hop profile is all about the pine and the citrus; sometimes you have a beer and it tastes like a walk in the woods.
MBE: What's the connection between beer and hiking?
Wood: The two cultures just have such an overlap. In the Pacific Northwest we have a very unique taproom culture that you wouldn't necessarily find in, say, southern California. Even looking at the brewery we're in right now, there's a very naturalist feel to it. The walls are covered in pictures of the outdoors and that's very typical of breweries in the Pacific Northwest.
MBE: Is there a reason that northwest beer culture turned out this way?
Wood: I think walking around in the woods is inspiring and brewers want to create something around that. The northwest hop profile is all about the pine and the citrus; sometimes you have a beer and it tastes like a walk in the woods. Beer is also just a good congratulatory prize at the end of the trail.
Fralic: If I've been out on a trail all day I want a beer. Once you get to a summit, on the way down all you're thinking about is having a beer and something to eat.
MBE: Writing this book would be a dream job to a lot of people, especially the research part. Was it?
Fralic: There were times when it was and times when it wasn't.
Wood: The Oregon coast is a good example. It was our last research trip for the book and we did it at the end of November and beginning of December. We could have had horrible weather on the coast at that time of year and we mostly had perfect weather. But there were a couple days of bad weather. There was definitely a day where we were hiking in the rain and I was crying, but we got through it.
MBE: What was writing the book like?
Wood: The writing process was very whirlwind. We basically wrote it in a four-month period. I quit my job and we put freelance work on hold and took our advance money and just hit the road. Luckily, we had taken a summer trip through Oregon before signing the book contract and we were able to use almost all that information for the book. It was sort of a test run of writing and researching just to see if this was something we could actually pull off.
Fralic: I think we still did the majority of the research in a three-to-four-month period, because we had to get photos, we had to get GPS tracks; we didn't necessarily have everything we needed for the book even though we've been writing about hiking and beer for years.
Wood: One exciting thing that came out of the tight deadline is it's easy to use the book to make a travel itinerary, because that's the way we had to do the research. We'd hit up as many breweries and hiking trails as we possibly could in one trip. So innately the book has a bunch of different route possibilities. There's one option in B.C. I like to call the Sea-to-Sky Highway route. You start in Richmond and go up to Whistler, following a trail of breweries all the way up.
MBE: What makes a good beer/hike pairing?
Fralic: Usually we go for proximity first and foremost – the closest brewery to the trailhead. But with Bellingham, for example, there are a lot of breweries in town and a lot of trailheads. In towns like that we would choose a brewery that we felt embodied outdoor culture.
Wood: We went with Kulshan Brewing because Kulshan is named after a mountain and it has a very northwest feel. All their IPAs have that quintessential northwest taste and they happen to have a Russian imperial stout called Shuksan, named after another local mountain.
Often we'd go for something other than the most obvious brewery. In Bend a lot of people think of Deschutes Brewery, but Deschutes doesn't need any more help. So we went with GoodLife Brewing. It's a brewery that loves the outdoors. They brew beer to be enjoyed outdoors and they're very open with that in their marketing.
We also try to match the hike with the place. In Astoria, since it's a fishing and port town we instantly looked for a hike with some sort of nautical theme. We did a little walk around a lake and then a beach walk out to the wreck of the Peter Iredale, which is the carcass of a ship that ran aground in 1906. It's certainly not a hard hike. It's 4.2 miles, which is pretty short as far as hiking books go. But with the overlap with beer drinkers, you can't assume that you're marketing this book straight to a hiking audience. We tried to include a lot of shorter walks near breweries.
Fralic: This is not a hardcore hiking guide by any means. There are a few challenging trails in it but they're mostly pretty moderate.
Wood: The joke is, you can get back to the brewery before happy hour.
Beer Hiking Pacific Northwest is available now at local bookstores. Learn more about Brandon Fralic and Rachel Wood at beersatthebottom.com