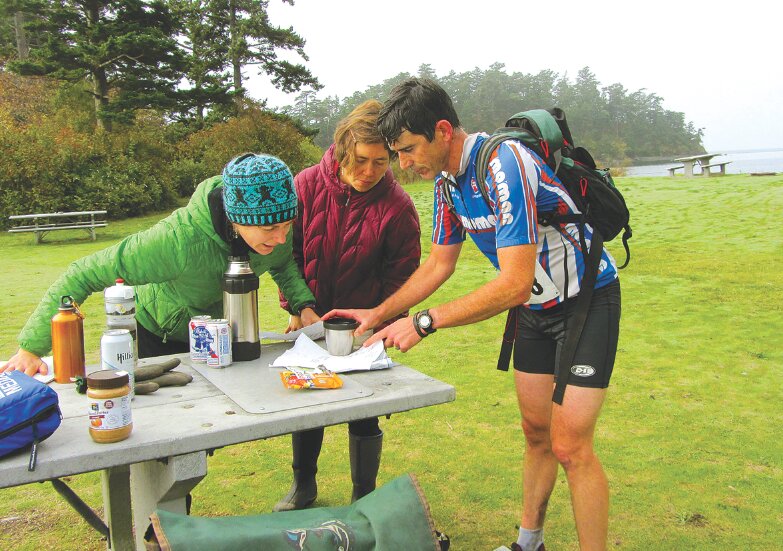 By Ian Ferguson
"We already came this way. Are we lost?"
That's a rare thought when running your average marathon or biking your typical century race. In most races, the path is clearly laid out ahead of you. There's a start and a finish, maybe some refreshment tables in between, and navigation is not a problem. You can put your head down and power through the miles using the latest mental technique you read about in Runner's World.
In adventure racing, the eerie feeling that you might be lost happens all the time, and it's often the truth. Adventure racers navigate their own way through a complex course using a trail map, compass and the power of observation. Getting lost is half the fun. The goal is not to finish fastest, but to get to the most checkpoints within a set amount of time.
Adventure racing came to Bellingham last year in the form of the Kulshan Quest. About 35 teams and soloists kayaked, hiked, ran and mountain biked their way through multiple environments to find checkpoints. The race started and ended in Fairhaven, and the checkpoints were scattered throughout the Chuckanuts, Larrabee State Park and the Fairhaven area. There was a six-hour course and a 12-hour course, and a bbq beer-garden at the finish line.
"It got a lot of good reviews," race-director Brent Molsberry said about the inaugural year. The Kulshan Quest is back for round two this summer. With a local team that competes at the national level and a club dedicated to adventure racing, the concept is starting to catch on among the adventurous crowd: adventure racing is a ton of fun.
"It's like trail running and finding Easter eggs," said Ky Nayfield, who participated in a practice session in May to get ready for this summer's race. "You feel reinforced every time you complete a checkpoint. Plus there is that subtle voice of competition in the back of your mind helping you push forward."
The practice session Nayfield took part in was put on by the Quest Adventure Racing Club, which meets every few weeks for short trail runs to checkpoints, allowing participants to brush up on orienteering and navigation skills. The club has been growing steadily, Molsberry said.
Unlike relay races where you only see your teammates to handoff the timing chip, adventure racing teams stay together from start to finish. When the going gets tough, good teamwork skills are vital: cooperation, communication and forgiving Larry when he leads the team in the wrong direction for two hours can spell the difference between success and disaster. Surly individualists might want to race solo, but for some, the team aspect is a draw.
"Even in a 12-hour race, but especially in a 24- or 30-hour race, there's no way you're not going to have a down point when you're tired and kind of miserable. With teammates, you can motivate each other and help each other through the bad times," Molsberry said.
The national championship adventure race, which was held in Maryland last October, had a 30-hour time limit. Molsberry and the Quest Adventure Racing team took sixth place, bagging 46 checkpoints in 29 hours and 40 minutes. Some races are even longer; in 2004, Molsberry and a team of adventure-racing newbies completed the Primal Quest Expedition Length Adventure Race in northwest Washington. For six days, they trekked, biked and kayaked their way to finish in 18th place. Good team dynamics were definitely a factor.
"There are times in those longer races where you might not see another team for several hours," Molsberry said. "You have to trust and rely on your teammates to
navigate successfully."
The Chuckanuts are familiar territory for many of the locals competing in the Kulshan Quest, and that might be an advantage. But Molsberry prides himself on building challenging courses that deviate from the expected. He spent months ensuring this year's course is unique, challenging and rewarding. No matter how familiar the trails may be, careful observation and awareness of one's surroundings will be key to winning. The awareness that adventure racing requires can bring a fresh perspective to familiar trails.
"It's a little more cerebral. You have to be thinking the whole time. Your experience is very different from most races because you're actively looking at the environment. You're counting stream crossings, keeping track of what direction you're heading – you notice things you would never see otherwise," Molsberry said.
Registration is open for the second Kulshan Quest Adventure Race, which is scheduled for July 25. To register, go to recreationnorthwest.org/quest-adventure-races.
The Kulshan Quest Adventure Race is put on by the good folks at Recreation Northwest, who promote outdoor recreation by organizing races, hosting the Recreation Northwest EXPO and Race Director Summit, and acting as the park steward for Fairhaven Park. Their other summer races include the Bellingham Kids Traverse, the Bellingham Traverse and the Island Quest Adventure Race in the San Juan Islands. Check them out online at recreationnorthwest.org. x