Locally crafted: ciders, meads and distilleries
A comprehensive listing of local sources
By Aubrey Laurence
If you like to drink artisanal alcoholic beverages, the Pacific Northwest is the place to be. Washington is well known for its nearly 200 craft breweries and approximately 800 wineries, but now it's earning a reputation for its growing numbers of craft distilleries, meaderies and cideries.
The Bellingham area and lower B.C. are also seeing a dramatic increase in these producers, and local imbibers couldn't be happier.
Spirits
Much of the distillery growth in Washington and B.C. is a result of recent changes in legislation. In 2008, Washington passed a bill that made it easier for small-batch spirit-makers to run affordably. In the past year, B.C. loosened some of its liquor laws, making it easier for distilleries to promote, sell and serve their spirits. Washington now has approximately 40 distilleries plus about 30 more in the planning stages, and B.C. has a handful of new distilleries with more on the way.
BelleWood Distilling (6140 Guide Meridian, Lynden, BelleWoodDistilling.com) is a true "farm to glass" craft distillery and cidery. It hand crafts spirits and its own CiderHead hard cider in small batches using produce from its own 32-acre BelleWood Acres orchard, which grows 22 different varieties of apples.
Opened in 2012, the distillery produces a light and refreshing gin made with seven botanicals, two vodkas (one made from a blend of table apples and one made from only Honeycrisp apples), and a delicious apple brandy called Eau de Vie. "We use about 65 pounds of apples to make just one 750-milliter bottle of Eau de Vie," says BelleWood distiller Jesse Parker, "and each batch produces between 600 and 1,000 bottles."
As the distillery continues to grow, be on the lookout for special fruit-infused vodkas and other spirits, such as the raspberry vodka that was released in July.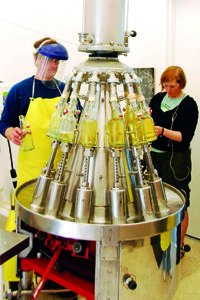 Opened in 2010, Golden Distillery (9746 Samish Island Road, Bow, GoldenDistillery. com) was the first small-scale distillery to open in Skagit County. Former restaurateurs, founders Jim Caudill and Bob Stillnovich hand craft a single-malt "Samish Bay" whiskey and a variety of brandies made from local apples, different berries and wines. After the spirits are processed in Golden's 60-gallon copper still, they are aged in 8- and 10-gallon barrels, imbuing them with hints of caramel, hazelnuts and vanilla.
Chuckanut Bay Distillery (1115 Railroad Avenue, Bellingham, ChuckanutBayDistillery.com), just down the alley from Boundary Bay Brewery, is an exciting addition to downtown Bellingham. Founders Matt Howell and Kelly Andrews produce a range of small-batch, slow-crafted spirits, including vodka made from Yukon Gold potatoes.
"Potato-based vodka is labor intensive to make, and it requires an average of 37 potatoes per bottle, but I like the mouth feel of potato vodka more than grain vodka," says Howell. "It just feels more substantive."
Howell hopes to have bottles of Chuckanut Bay Vodka ready for sale by the end of this year. After they get it established, he wants to turn to gin, whiskey, rum and brandy. "There are a lot of fun spirits out there," says Howell, "and we would really like to do some limited-run stuff, too."
Mount Baker Distillery (1305 Fraser Street, Suite D, Bellingham, MountBakerDistillery.com), Whatcom County's first distillery since Prohibition, opened in September 2012, has already expanded its system from three 15-gallon stills to four 26-gallon stills. Owner Troy Smith is continuing a family tradition that goes back six generations by producing an organic corn and grain-based 80-proof vodka and a 100-proof moonshine, plus some insanely delicious fruit infused moonshines that are made with a variety of local fruit, which is left inside the jars. All distilling, bottling and labeling is done by hand, and bottles are available in most Whatcom County liquor stores.
Mount Baker Distillery may not be the only distillery in Whatcom County anymore, but owner Troy Smith doesn't seem to mind. "I think it's great to see all these distilleries opening up. There's always room for more."
Shiner Distillery (2200 Queen Street, Suite 16, Bellingham) is another exciting addition to Bellingham's growing league of craft distillers. While it may not be open by the time this article is published, Shiner will be producing whiskey, gin and vodka from its 150-gallon still soon enough.
"There's a huge application process with the federal government," says Mike Talbott, who co-owns Shiner Distillery with his younger sister, Amanda Willis, and husband-and-wife team Derik and Kim Scott. "Depending on how things go, we hope to be open by the end of this summer."
Long Table Distillery (1451 Hornby Street, Vancouver, LongTableDistillery.com), which was named after the recovered 14-foot-long redwood plank in its tasting room, is Vancouver's first "micro-distillery." Its 80-gallon copper pot still creates a growing selection of handcrafted gins, vodkas and other specialty spirits.
Other nearby distilleries to check out:
San Juan Island Distillery in Friday Harbor (SanJuanIslandDistillery.com), MacDonald Distillery (MacDonaldDistillery.com) and Skip Rock Distillers (SkipRockDistillers.com) in Snohomish, Whidbey Island Distillery in Langley (WhidbeyDistillery.com), Victoria Spirits (VictoriaSpirits.com) and Merridale Brandy House (MerridaleCider.com/about/artisan-distillery) in Victoria.
Also be on the lookout for these openings:
Subdued Spirits Small Craft Distillery in Bellingham, Central City Brewers & Distillers in Surrey, B.C. (CentralCityBrewing.com), Odd Society Spirits (OddSocietySpirits.com) and The Liberty Distillery (TheLibertyDistillery.com) in Vancouver, B.C.
MEAD
Mead, also known as honey wine, is a fermented solution of honey and water that is sometimes flavored with spices, herbs, hops, fruit and other adjuncts, creating many variants. It ranges in alcohol from around 8 percent to more than double that. Some mead is carbonated and some is still, and it can be sweet, semi-sweet or dry.
Its origins are unknown, but mean is thought to be one of man's oldest fermented drinks. According to Mark Beran of Medovina Meadery in Boulder, Colorado, mead dates back 20,000 to 40,000 years to the African continent, when tribes would gather honey and mead from the hollows of indigenous trees. Bees would nest in the pockets of these trees in the dry season, and during the wet season they would fill with water along with the local osmotolerant yeast, thereby producing the fermented beverage naturally.
Honey Moon (1053 N. State Street, accessed through the alley off Maple Street, Bellingham, HoneyMoonMead.net) creates a wide selection of hand-crafted meads made from locally produced honey and fruits (it also makes hard cider, wine and sangria), including a warming Wassail, which is made with cinnamon, ginger, nutmeg and clove, and a delightfully tart rhubarb mead.
Why the name Honey Moon? As the story goes, the word honeymoon comes from an old practice of the bride's father dowering enough mead to last a lunar month.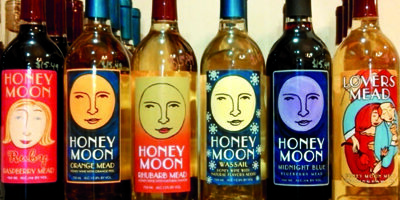 Campbell's Gold Honey Farm & Meadery (2595 Lefeuvre Road, Abbotsford, BCHoney.com) produces a number of sweet and dry honey wines ranging in alcohol content from 10 to 17 percent, including ancient mead, pyment (honey/grape wine), metheglin (spiced honey wine) and an assortment of melomels (honey/fruit wines). Master beekeepers Mike and Judy Campbell run the 8-acre farm and meadery with a passionate focus on being socially and environmentally responsible.
Tugwell Creek Honey Farm & Meadery (8750 W. Coast Road, Sooke, Vancouver Island, TugwellCreekFarm.com), which is about 40 minutes northwest of Victoria, was British Columbia's first licensed meadery in 2003. With more than four decades of beekeeping experience and more than a quarter century of mead-making experience, founder Bob Liptrot creates a lineup of award-winning meads that are crafted in small batches using local honey and berries.
To give you a taste of some of Tugwell's unique offerings, there's Kickass Currant, which is made with black currants that provide an intense mouth feel and honey-balancing tannins. Or there's Original Sin Cyser Mead, which is made with wildflower honey, tart cider apples and fragrant quince.
More nearby meaderies to check out: Aesir Meadery in Everett, WA (AesirMeadery.com) and Sky River Mead in Redmond, WA (SkyRiverBrewing.com).
CIDER
In the past, "hard cider" referred to the alcoholic beverage made from fermented apple juice, whereas "cider" only referred to the non-alcoholic apple cider juice. These days, however, hard cider is typically just called cider.
Cideries, also referred to as cider houses, harvest apples in the fall (typically from August to October), mill, crush and press them into juice, and then ferment the juice. Similar to wine, cider is a direct reflection of the fruit and the terroir of where it's grown.
The U.S. cider market makes up less than 1 percent of the U.S. beer market, but it has experienced exponential growth over the last decade, and it seems to be gaining popularity, especially in Washington, which is the No. 1 apple-producing state in the country.
"I don't believe cider will ever become mainstream like beer or wine," says Patrick McEvoy, owner of Elizabeth Station in Bellingham, which sells more than 75 different ciders, "but it is a growing niche market with a lot of fun flavors, mixes of berries and spices. Cider is also gluten free, which is a huge untapped market."
Alpenfire Cider (220 Pocket Lane, Port Townsend, AlpenfireCider.com), owned by Steve and Nancy Bishop, produces a line of unpasteurized, bottle-conditioned and certified-organic ciders – everything from a 6.9-percent Pirate's Plank Bone Dry Cider to a 9.5-percent Spark! Semi-Sweet Cider.
Tulip Valley Vineyard & Orchard (16163 State Route 536, Mount Vernon, TulipValley.net) is currently only selling Burro Loco Cider, which is a semi-dry cider made from Piñata apples. It's definitely a cider to try, though, as it's slightly tart and tremendously refreshing, with fresh apple aromas and pleasant white wine notes. Look for more from Tulip Valley after this fall's harvest.
Sea Cider Farm & Ciderhouse (2487 Mt. St. Michael Road, Victoria, SeaCider.ca), founded by Bruce and Kristen Jordan, makes a wide variety of all-organic ciders (some year round, some seasonal) – from still to sparkling, and very dry to very sweet. Located on the Saanich Peninsula, just minutes from Victoria and Sidney, the farm's orchard overlooks the sea, making it an idyllic location to savor artisan ciders.
Kristen Jordan sums things up succinctly, "I get to work in a beautiful place in the world with fantastic people, and I'm making a product that people enjoy."
Other nearby cideries to check out: Westcott Bay Cider in Friday Harbor, (WestcottBayCider.com), Okanagan Premium Cider in Vancouver, (OkanaganCider.ca), and too many cideries in British Columbia's Okanagan Valley to mention (see a list here: CiderMonger.com/Canadian-applepear-cider-map). Also check out the Northwest Cider Association (NWCider.com), which is a trade organization formed in 2010 by cideriesin Oregon, Washington, Montana and Canada. X