A conversation with Duncan Howat, Mt. Baker Ski Area general manager
By Pat Grubb
Photos by Grant Gunderson and Patrick GrubbIf you spend any time at all at Mt. Baker, you'll soon run across Duncan Howat, the ski area's general manager. You may see him in the lodge, on the slopes conferring with patrollers or checking out the operations on his snowmobile. Born in Seattle and raised on a farm in Yakima, Howat is 68, married to his wife Gail for 37 years and has two daughters, Gwyn and Amy, both of whom also work at the ski area. In early November, we interviewed him at his office in Bellingham.MBE: When did you start skiing?
Duncan Howat: I was 20 or 21 and going to a community college in Yakima. I had always been into waterskiing, but my parents had built a cabin in the mountains. I didn't think I'd be any good compared to waterskiing, but they bought me a pair of boots and I went out and got a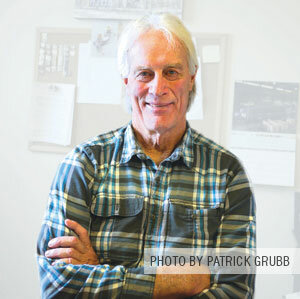 pair of wood skis. I went up to the White Pass ski area one day, put on the skis and went over to the rope tow and made one run straight down the hill. It was one of those things when you get lucky and say to yourself, "'This is what I want to do.' Right there. Right then."MBE: How did you get into the ski business?
DH: While I was in school I got a job at White Pass. When school was out, I worked full-time. I learned a lot about lift maintenance, snowcats, all that.
MBE: When did you go to work for Mt. Baker?
DH: Vietnam came along, and we decided to get married. I went into the reserves, Bill Clinton and me. Once I got out, Gail wanted to go to school in Bellingham. I wanted to do some more school too, and I thought maybe there's something open at Baker. So we came up here. At the time the company was in disarray. They really didn't have a manager and the ski patrol sort of ran the area but the company needed to renegotiate their permit because their previous permit with the Forest Service was up. There were groups that were trying to take it away and so I was hired right then. To be 24 years old and to be a ski area manager, that was something.
MBE: Who owns the ski area?
DH: There are 250 stockholders, but six old-time Bellingham families hold the majority of stock.
MBE: The ski area is different from most others. Can you describe the company's philosophy?
DH: We've always pushed the fact that we're on the edge of the wilderness, that we're surrounded by wilderness and a national park. Our whole thing is to keep the experience as real as possible by not advertising, not making it like Disneyland and to point out that there are dangers in the mountains. What I've found over the years is that more and more people are seeking a real experience, not something that's phony, something that's catered so you don't have to think for yourself. I think that's been paying off pretty well. We're an area that's fairly remote in the corner of the state. The population is growing in Whatcom and Skagit counties and the lower mainland, so business has been good.
MBE: What about the Canadian business?
DH: It's getting better. At one time, our business was 47 percent Canadian, but then it dropped. Lately it's been climbing and is probably in the 20-percent range now. If they have a low snow year in the lower mainland, then we'll have a pretty darn good year. There were a couple of days this year where the parking lots were full and the cars were around the loop at Heather Meadows.
MBE: How's the ski area fared compared to other resorts in the economic downturn?
DH: I've always been fiscally conservative, not borrowing a ton of money from the banks, and we try to pay for things as we go. Back in the '70s and '80s lots of resorts expanded under the theory that if you build it, they will come. That all came to a screeching halt – interest rates went sky high and big operators bought out a lot of ski areas.
MBE: What are you most proud of in terms of the ski area and what you've achieved?
DH: I'd say retaining local ownership is one. I'd add doing the expansion and creating the ski area with the crew, paying as we go and remaining economically sound, providing good value for people with a good experience. The lodges are pretty nice, too. The White Salmon and now the new Raven Hut Lodge provide a great experience for people.
Another big thing – at the ski patrol refresher a few weeks ago, a woman from the national ski patrol association came up and gave me an honorary number, which is kind of like an honorary degree. They've only given out 74 of them since its inception 75 years ago. They've given one to Gerald Ford, Orrin Hatch. So that was kind of a neat deal.
MBE: Any chance the ski area could ever expand?
DH: Given our master plan and the terrain around us, it's pretty tightly locked up. There is some recreation land surrounding us, but not a lot. There's a little bit on Mt. Herman but that creates some problems on its own. You could theoretically go up to the top of Hemispheres but I don't think most people would want that because they like it as a hike. It's more of a fine-tuning of what we have.
MBE: What sort of things might you be planning for the future?
DH: Within our boundaries, we might be looking at adding a chair or two. Possibly extending the parking lot where the backcountry people are parking and taking up spaces from the paying customers.
MBE: Where could new chairs go?
DH: You could put one at the top of the Chair 3 area and run all the way down to the sewage treatment plant. There's a chair that could go where you get off at Chair 7 and would go all the way to the top of Chair 8. At one time, we laid out a chair at Austin called the Up and Up that went up over the backside.
MBE: How many people work at the ski area when you're fully operational?
DH: About 275, not counting the volunteer patrol or the ski school instructors.
MBE: Many ski areas have gotten into mountain biking in a big way in the summer. Any chance of that happening at Baker?
DH: No. First off, we don't have detachable chairlifts and you need those to load a bike and go up the hill. Secondarily, our terrain is so severe and steep and rocky that it doesn't lend itself to that kind of activity.
MBE: How does a ski area determine what they're going to charge for a ticket or a season's pass?
DH: For a season's pass, we take the daily lift price and see how many times someone has to go to reach a break-even point. Then we kind of think about whether people can really ski that much or go that often. Then we factor the mid-week and the convenience issues, and we arrive at a figure. Some ski areas sell passes for the next season in the spring and price it down low so theoretically they have the use of that money during the summer. They're kind of selling themselves short because when they open, they're charging $60 for a lift ticket but they've stuffed the area with $200 pass holders who are basically skiing free.
Beyond that, you have to look at your daily lift prices and see what it's going to take during an average season to cover your costs and have a little bit left over for a profit or to replace snowcats, buy parts, maintain your utilities, your water plant, your diesels for the lift. Those things all wear out.
MBE: What is the split between daily pass and season pass holders on an average day?
DH: I'd say on any given weekend, probably at least a third are season pass holders.
MBE: Skiing is inherently a risky sport and going out of bounds makes it more so.
The ski area has had to go out and rescue people after avalanches. How do you deal with that?
DH: First off, you have to think that in these situations it's not your emergency, it's their emergency. That's what I tell our people. Then we have to determine if it's safe for the rescuers to go there. And in those out-of-bounds areas, it may not be, and we won't send anyone out there. It's a little hard on the crew if someone's buried and they end up deceased. That's just human nature – it's hard. You kind of rationalize it by thinking these people are doing what they wanted to do and took their own risks – like someone driving fast on the Mt. Baker Highway. Those are the activities people are electing to do and while you don't like to see it happen, people need to make their own decisions and be responsible for them.
MBE: How do you keep in shape? What do you do in the summer?
DH: Well, I used to row but lately I've gotten into what's called surf sea paddling. There's a big community of guys in Bellingham who do it, and it's really a great workout. We go out into the bay and surf the waves back or go over to Hawaii or Columbia Gorge.
MBE: How much skiing do you do these days?
DH: Not a lot. I used to ski and snowboard quite a bit but I had a hip replaced a year ago and a knee replaced just before that, but now I'm back really strong so I'll probably get out there more this season.
MBE: What happens at the ski area during the summer?
DH: It could be new construction like the Raven Lodge. This summer it's been a real monumental project installing new software in all the sales areas. It's been a real push.
MBE: Global warming – what is the ski area doing to reduce its impact?
DH: We're doing 100 percent recycling in our food service. We're using compostable plates, cups and washable china. Any new engine we replace will be what's called a Tier 4 engine, which is extremely fuel efficient with very low emissions. They're expensive but we're going on it really strong. Another thing is carpooling; we're bringing our crew from town in vans.
MBE: What's involved in getting ready for the season?
DH: We just finished all our state inspections; we're bringing in the dry goods for the food service, the fuel for the chairlifts. Then interviewing and hiring the crews and training will begin in a couple of weeks.
MBE: What's the best thing about your job?
DH: I think about that from time to time. Here I am, 40 years into it at the same place. I just feel lucky. Many times it's challenging and it feels like the stress will do me in. Working with my family and the crew of employees we have is terrific. I also like to see people having a good time. Or, when you come up with ideas, you like to implement them and see them work. I was really pleased with how the Raven Lodge was received.
MBE: What's the worst thing about your job?
DH: I don't really think about that a lot. Maybe sometimes it's the weather, particularly in the fall when it's raining a lot or on the weekends – it's kind of tough. Or, when someone comes in at the end of the day and says someone's lost. Now we have to put together a search. Those are the kind of things.
MBE: Is this going to be the best season ever?
DH: I couldn't say that. The last two years have been fabulous seasons with the powder and the cold. To top what we had, that's almost wishing for too much. We had so many days with 10 inches of snow or more – it just kept coming. But it's going to be a good season. X