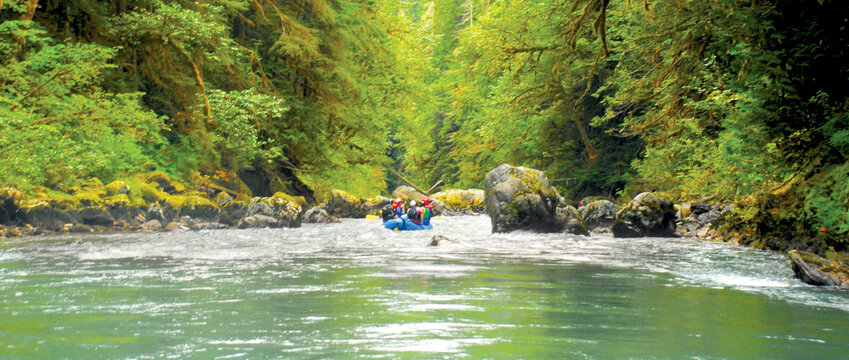 By Wendy McDermott
American Rivers director for Rivers of Puget Sound and Columbia Basin
The Nooksack River is one of the only rivers in Washington that offers year-round whitewater boating. The glacier-melt from Mt. Baker and Mt. Shuksan feeds the Nooksack through the summer season, attracting boaters to the area when other rivers become too low to boat.
The majority of whitewater boating in the Nooksack River system takes place on the North Fork along Hwy 542. The river provides opportunities for all levels of paddling, from splashy Class II wave trains perfect for beginners to technical, steep and narrow Class V rapids for experts. However, public access to these runs is a mixed bag with room for improvement.
An example of needed river access improvement is the North Fork's popular Canyon Run. Boaters launch their crafts, mainly rafts and kayaks, at a U.S. Forest Service managed site at the Horseshoe Bend Trailhead near Douglas Fir Campground, but boaters do not have a suitable public take-out downstream of Glacier. Through the collaborative process that developed the Upper Nooksack River Recreation Plan, a parcel of public land near Maple Falls that could serve as this much needed official public access site was identified.
The development of this river access site is dependent upon community engagement. A small group of individuals, businesses, and organizations are developing plans for making this access site a reality, and opportunities exist to get involved. If you would like to be part of this exciting project, please contact Wendy McDermott at wmcdermott@americanrivers.org.
Wendy McDermott is the director of Puget Sound and Columbia Basin programs for American Rivers. She has been an advocate for free flowing rivers, intact ecosystems and resilient communities for over 20 years.