Story and photos by Pat Grubb
Sam Hassan mixed his first cocktail when he was a 17-year-old and still living in Brazil. The drink was a batida, Portuguese for shaken or milkshake but can also refer to a car crash which is fitting considering it usually involves a heavy slug of cachaça. With an alcohol level that can exceed 50 percent, cachaça packs quite a wallop and is Brazil's most popular distilled spirit – over 1.5 billion liters is consumed annually.
Sam's come a long way since then. After opening his first restaurant at the age of 22 in London (he had two), he went from mixing drinks to distilling the spirits that went into them. In 2009, he opened a bar in Ballard and began distilling and infusing spirits. Since buying and operating the popular Milano's Restaurant in Glacier for some years now, Sam and his wife Nancy are ready to jump back into the world of distilled spirits and have started up Paraty Spirits in Sumas.
"People say we're doing things on a shoestring. I say, no, we're doing it on half a shoestring."
Why Sumas? According to Sam, he picked that location because of the water. "It comes straight from the ground – pure, beautiful water," he says, pointing out that up to 50 percent of spirits is H2O. The water is so good, in fact, that every time they've done a taste test comparison against Tito's Handmade Vodka, Sam's vodka wins, he says. As for the alcohol itself, the Hassans only use 100 percent natural, hand-crafted bases. "There is no sugar, chemicals or artificial colors in any of our products," Nancy adds.
Their liquor lineup includes 13 kinds of infused vodka, tequila, rye whiskey, rum, gin and brandy – with plans to up that to 18. There are three incredibly smooth infused agave tequilas; one with hibiscus, another with tamarind and lime and one with tangerine. And infused with Eumari peppers straight from the Amazon jungle, their Jaguar Gin has a bite. Meow!
Sexy Thing is a high-quality vodka base infused with hibiscus, tangerine and spices. Jupiter's Blood is a Pinot Noir brandy infused with Sangiovese pomace from Walla Walla Vintners and barrel aged for 12 months. Their Aunty Molly's Signature Rye Whiskey Cask Strength packs a punch at 117 proof "…and people can't believe how smooth it is," Sam says.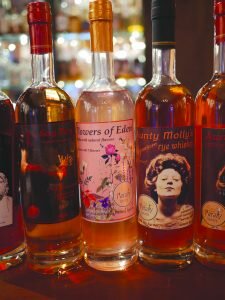 Made from a late 1800s Brazilian recipe, the Isabelle Spiced Banana Rum gives handmade a new meaning, Nancy says, referring to the process of ripening, peeling and cooking the bananas into preserves that are then used to infuse the rum. "Isabelle is delicious whether you drink it neat or blend it into any number of cocktails."
If you want to try out some of these spirits, head to Milano's Restaurant and start sipping in the main dining room or in the next room at Bar Veneto. While they can't sell to you by the bottle (prices at retail range from $20 to $60 for a fifth), Sam will be happy to mix you one of his signature cocktails. Paraty Spirits are distributed by Bellingham-based Dickerson Distributors which covers Whatcom, Skagit, Island and San Juan counties. The distributor is known for its craft and premium selections of beer, wine and spirits. To get an up-to-date list of retail outlets carrying Paraty Spirits products, email paratyliquorwine@gmail.com.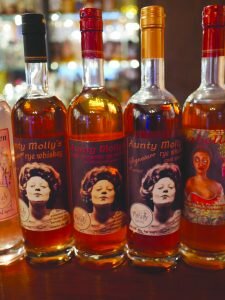 But to catch Sam and Nancy Hassan at Milanos, you might have to head there soon; the pair are so bullish about their spirit-making prospects that they've put Milano's Restaurant up for sale. Running a restaurant and making and distributing fine spirits requires more hours and days than there are in a week and they'd like to concentrate on growing their liquor business. "People say we're doing things on a shoestring," Sam says. "I say, no, we're doing it on half a shoestring." If a reader knows of someone who's interested in buying a restaurant business, the building and the land, tell them to call Sam or Nancy.
In the meantime, here's some drinks to try at home:
Calle Veja (This one's for "serious drinkers")
1 oz. Jupiter's Blood brandy
1 oz. Aunt Molly's Signature Rye
2 dashes orange bitters
2 dashes Peychaud's bitters
Dama Azul Margarita
2 oz. Dama Azul Hibiscus Agave Spirits
1 oz. orange liqueur
½ oz. lime juice
Salt rim with pink Himalayan salt (if available)
One more thing – all of these spirits come with an origin story printed on the back of the label. If you're worried about drinking alone, these stories will keep you in good company.
(The local craft distillery business is getting a lot of buzz for good reasons these days. Next issue, we'll take a look at Bellewood Distillery, 'Washington's first true "Farm to Glass" distillery.')