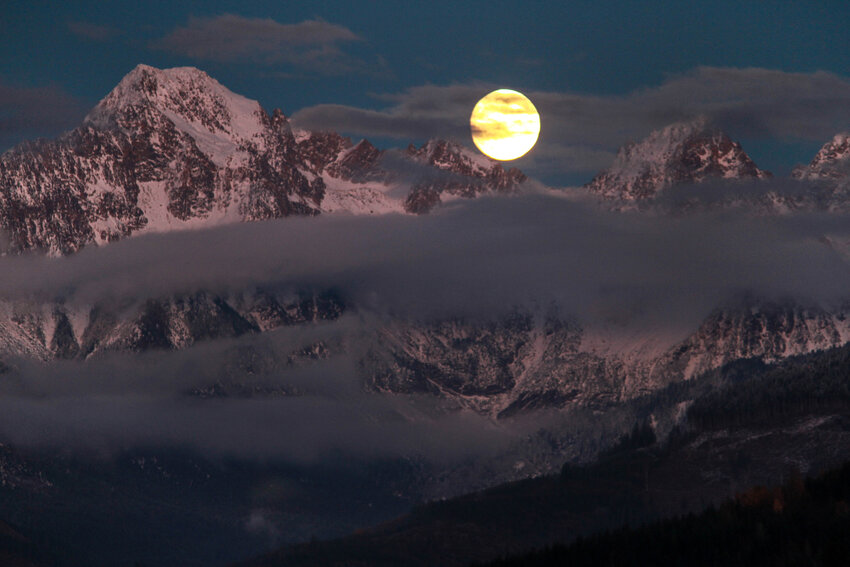 Story and photos by Audra Mercille
When Rio and I set out for the North Twin Sister, some would have called us crazy – not just because of our familiar but challenging destination or the vast amount of equipment we had loaded on the motorcycle, but also because of our late afternoon departure from Glacier for the long and technical climb.
Halfway to the summit, we stopped on the jagged west ridge to revel in the last beams of light before the sun disappeared. The vast view displayed a red curtain over Whatcom County. The stars were about to debut.
We finally made the summit at midnight and were greeted by a beautiful dragonfly and a curious mouse. Just a sliver of moon was visible, leaving the sky nearly pitch black. The butterflies we carried in our stomachs on the dark ascent quickly subsided with the sight of the sky. Stars glistened like polished jewels. Exposed on the top of the mountain we felt as though we were part of the night.
Moonlit Mt. Baker and the star-bright sky were like something from a dream. We lay awake drinking up the night and fighting the urge to sleep until the sun crested the northeastern Cascades.
After resting a few peaceful hours in the morning sun we strapped on our snowboards and surfed the slush on the north face down to the valley below, the summit now a vivid memory of a dark and magical starry night.
The winter months offer some of the best stargazing opportunities. Individual stars, planets and constellations appear brighter, since North America is facing away from the center of the Milky Way. This also means you'll see a different, and probably less familiar, set of constellations than in summer. With the longer nights – up to 16 hours of darkness during the winter solstice – you can experience the vibrant night without sacrificing sleep.
With winter now in full effect, grab your warmest layers, pack a hot beverage and head out to experience the magic of the night sky. As always, the best opportunities for stargazing are during the new moon phase. If you are really lucky, you might also see the illusive Aurora Borealis in the northern sky. x
Where to go:
Heather Meadows
The winter end of Highway 542, an hour and a half from Bellingham.
Porteau Cove Provincial Park
Approximately 45 minutes north of Vancouver on the Sea to Sky Highway.
McDonald Park
In Abbotsford, a designated Dark Sky Park between Abbotsford and Chiliwack off Highway 1, an hour east of Vancouver.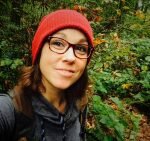 Audra Mercille is a Pacific Northwest-based freelance adventurer. She found photography as a way to display her love and gratitude for the mountains and landscapes that inspire her.
---