Hut-to-hut touring in the Bonnington Range
By Ian Ferguson
Photos by Oliver Lazenby
When you work a full time job, big ski trips are a gamble. You have to get the time off in advance, and you're never sure what the conditions will be. Sometimes your only choice is to send it and hope for the best.
I had wanted to ski the Bonnington Traverse ever since we published Cory Tarilton's article in the Mount Baker Experience Spring 2014 issue. I got some friends onboard, we finagled time off with our respective workplaces and reserved the huts about a month in advance for the middle of January.
We met up in Nelson, British Columbia, a true mountain town with more outdoor gear shops per capita than any other town I've seen. Oliver Lazenby and I drove up from Bellingham. Paul Nicholson drove from Salt Lake City, and he picked up Dylan Stanford, who is from Portland, Oregon, along the way in Idaho. Dylan was the lone splitboarder of the group.
Right away, it was clear that our chosen time slot was not ideal. It was raining at high elevations, and the avalanche report was dire. The safest route would put us in avalanche terrain, to say nothing of the steeper lines that would tempt us along the way. We considered bailing on the whole venture and spending a weekend at Whitewater Ski Resort.
Ultimately, we decided that getting to the first hut, the Grassy Hut, would be safe and easy. Once we were there, we could make decisions for each day based on our snowpack observations. We all had taken Avy I, and Paul was on ski patrol for the Canyons Resort in Utah. We spent a lot of time talking about conditions, identifying the potential heuristic traps that might put us in harm's way and vowing to be conservative with our terrain selection.
It was raining the next morning. We dropped my car off at Porto Rico road, drove Paul's truck around to Bombi Summit and set out to ski through the Bonnington Range – a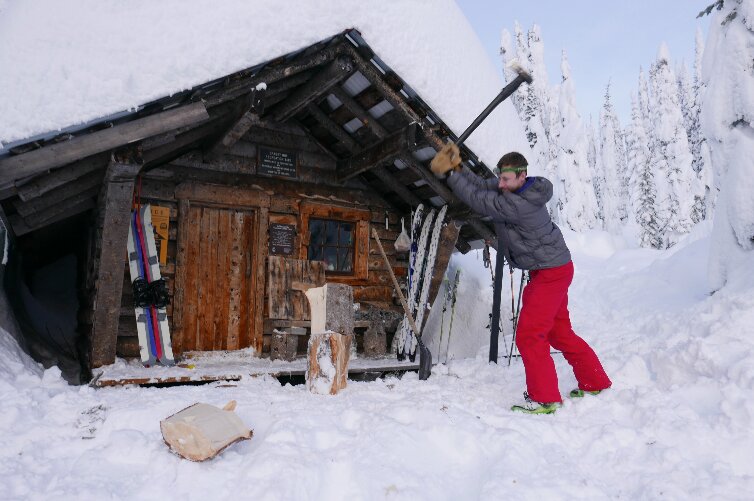 sub-range of the Selkirks – with everything we would need for four days on our backs.
With the help of GPS, Google Maps and a previous party's skin track, we found Grassy Hut without too much trouble. It was starting to get dark as we built a fire in the wood stove and melted snow for water. The Bonnington huts are run by the Kootenay Mountaineering Club (KMC). They are stocked with wood stoves, wood, cooking utensils, a two-burner Coleman stove and a Coleman lamp. The Grassy Hut has four bunks that are wide enough for two people in each bunk.
Before we left Nelson, I had emailed a member of the KMC for route beta. Graham graciously replied with detailed route descriptions. He told us getting to the second hut, the Steed Hut, would put us on 40-degree, wide-open terrain which, given the avy forecast, sounded sketchy. He also told us he had reserved the Grassy Hut with some friends the night after our reservation. So when we went to bed on our first night in the Grassy Hut, we knew we had two options the next morning: continue on to Steed Hut or hope Graham and his friends were willing to share the Grassy Hut.
The next morning broke relatively clear, which was encouraging, but as we made our way to the top of Grassy Mountain a snowstorm settled in and intensified. We continued toward Steed Hut in whiteout conditions, but eventually decided it wasn't safe to keep going. The avalanche slopes Graham had warned us about are on the last stretch of the route from Grassy to Steed.
Navigating with no trails in a whiteout, it would take us all day to get there, so we would find ourselves on top of an avalanche-prone slope loaded with new snow, with poor visibility, darkness descending and a strong desire to get to the hut below. We decided to avoid that situation, instead finding a long run in the trees off the summit of Grassy Mountain, lapping it a few times and heading back to the Grassy Hut with offerings of whiskey and chocolate for our unknown hosts.
Graham, Joanne and Matthew ended up being really nice, and showed us true Canadian hospitality. They invited us in and we spent the night eating, drinking, looking at maps and playing Bananagrams.
We got up early the next morning, determined to get to Steed Hut. The clouds almost broke for a few minutes at sunrise, but other than that we were socked in for the whole day. The running joke was that according to the forecast, the sun would come out in an hour. An hour from when? An hour from right now.
We skied the tree run from the summit of Grassy on our way, and at the bottom discovered one of the bindings on Dylan's ancient splitboard was jammed. Thinking it was frozen, Oliver offered to pee on it, and when that didn't work, I peed on it too. That melted the snow and ice enough to see that an insert was jammed against one of the pucks. We figured it out, laughing to renditions of Dave Chappelle's R. Kelly impersonation.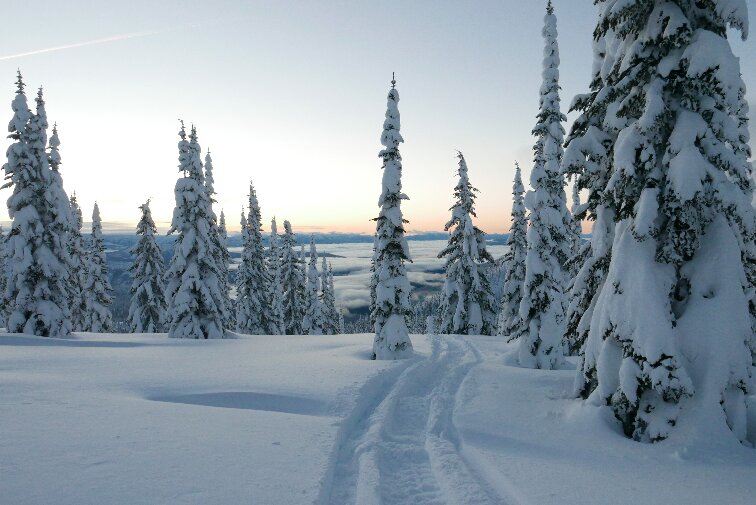 By the time we started approaching the final ridge to Steed Hut, daylight was starting to fade. We crossed quickly under a steep avalanche slope, probably the sketchiest part of the whole trip. After a quick climb to the ridge, we received good news and bad news.
The good news was that the ski down to Steed Hut was treed, mellow and safe. The bad news was that one half of Dylan's splitboard had broken right in front of the toe, and was hanging by the laminate. Once in snowboard mode, the other half kept the board rigid enough to ride on, but in tour mode it would be useless without some serious MacGyvering.
The Steed Hut is in the middle of the range, miles from the nearest road. It was Sunday, and Oliver and I needed to be back in Bellingham for work on Tuesday. We already knew Monday would be long, and this broken splitboard would make it much worse, but we decided not to think about it. We got to Steed Hut and enjoyed ourselves.
Steed Hut is an A-frame with a loft and a giant table. It was a dry, cozy place to spend the night. We drank the last of the good whiskey, and Dylan shared a beer he had hidden deep in his pack. It was a Payette Brewing Outlaw IPA, and it hit the spot. It was Paul and Dylan's turn to cook, and they made a massive amount of gourmet mac and cheese.
Our final day of the trip broke clear and sunny. Although we had debated dropping into the Erie Creek drainage and climbing the face of Empire Peak to get out to Porto Rico Road, with Dylan's board broken we decided to minimize our elevation gain. We decided to ski out over the shoulder of Twin Peaks to Munson Road where a gradual climb and long, nearly flat descent would bring us to the truck at Bombi Summit, where we started. Enticingly, we had seen a north-facing zone on the south ridge of Siwash Mountain with long, almost spine-like lines that was just a short detour from the easiest route.
We used an avalanche probe and multiple ski straps to splint Dylan's ski. It was still too flexible, and it made transitions take a lot longer, but it worked. We headed up to Siwash Ridge as the sun rose in the sky.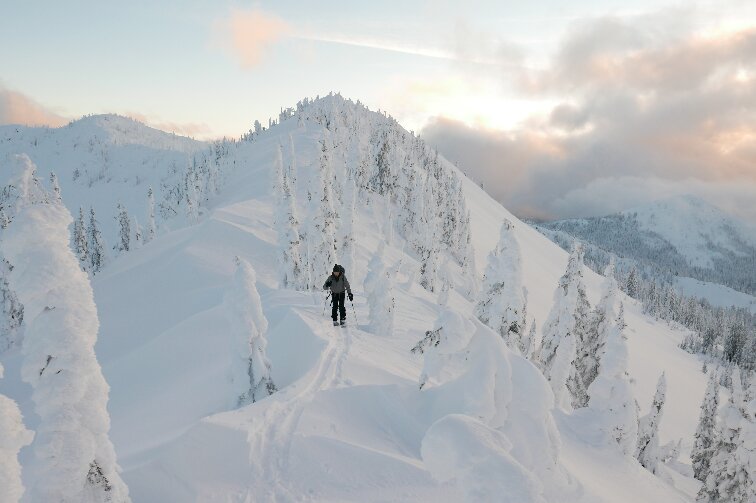 The avalanche danger had lessened over the weekend. We saw no evidence of slides and our pits indicated stability. Still, we were cautious getting up to the ridge. Paul found the best skin track up a slight bulge to a treed saddle. From the saddle, we had options. Oliver and Dylan chose to ski a long, powder-filled run from the ridge saddle. Paul and I opted to follow the ridge to a steeper section. Oliver and Dylan got to a safe spot below us and used walkie talkies to direct us to nice lines. As Paul and I were ripping skins to drop, a helicopter buzzed us and landed just down the ridge, dropping off clients to ski the slope directly behind us.
I went first, making a long ski cut to get to a sparsely treed ridgeline. I dropped in between the trees to a steeper open slope, and in just a few long turns I was speeding across the flat section to the trees where Oliver and Dylan were watching. On the radios, we directed Paul to a mini spine line that he aired into before arcing down with style.
The trip out from there involved a small ridge climb, hippy party turns into a densely treed valley, a brief moment of darkness for Dylan as he battled a log crossing in snowboard boots, and a 13-kilometer skin/ski out to the truck on a logging road. We got to Paul's truck after dark, only to find that it had been broken into. The thieves stole an auxiliary cord, but ignored all the gear in the bed of the truck.
In all, we got about nine good runs in four days of touring. We didn't complete the traverse, and Paul's truck got broken into. But in a week where there were multiple avalanche deaths across North America, we made good decisions, and those turns were by far the best of the season for me.
We all want to go back to the Bonnington Range, but next time we would give ourselves more time, get to a hut and spend multiple days there exploring the terrain. There are a lot of possibilities, and so much of the area we didn't get to see. x