Sail and SUP on the B.C. coast
By Karl and Jess Kruger
With clenched hands, constricted throats and nerves stretched piano wire tight, we navigate the most difficult territory of our three-week journey. Our unwieldy vessel teeters under its loaded weight, creaking to a crooked stop.
"Are you having a party?" asks the checkout lady at Island Market, our local grocery store. She's eyeing the cart piled high with food.
"Meme's not doing well! Meme's not doing well!" our 7-year-old daughter Dagny chants, gleefully drumming a stick of salami in time to her words. It's true. For me, her "Meme," massive grocery bills are no party, but this overloaded cart is intended to carry us through at least three weeks of sailing.
Back home aboard our sailboat Winkapew (Wing-KAH-Poe), we rapidly store our provisions. A 61-foot ketch built in 1972, Winkapew has no shortage of space for stashing food. Food is the last item on our prep list, and soon we are casting off under sunny skies. We motor gently away from Deer Harbor, Orcas Island, and plot the shortest course for Bedwell Harbor to clear customs into Canadian waters. We are dreaming of secluded anchorages, wilder country and marrying this fantastic boat of ours with the surf and standup paddle (SUP) boards racked and ready to ride on her aft decks.
Getting into Canada is smooth, as usual. Officers Reilly and Sobering board our boat to conduct a search, but when they join us back on the dock the conversation centers on our daughter Dagny's swing on the foredeck, and her pet snails they discovered on board. They are also curious about the boards on the boat, and what exactly we are doing with this big, cruising sailboat.
We purchased Winkapew in October 2014, moving her up the coast from San Francisco to Orcas Island where we base our sailing charter business, Kruger Escapes. We needed a sailboat capable of taking guests on expeditions with stability, performance, comfort and safety all at the top of our list. Winkapew has a ketch rig (stability), a hull shape shared with several famous ocean racers (performance), a spacious salon plus private guest cabins (comfort) and was designed and built by the trusted and respected C&C Yachts. This build, plus extensive upgrades, gives us the final requirement: safety. Add racks at the back for carrying multiple surf and SUP boards, and we are more than ready for adventures!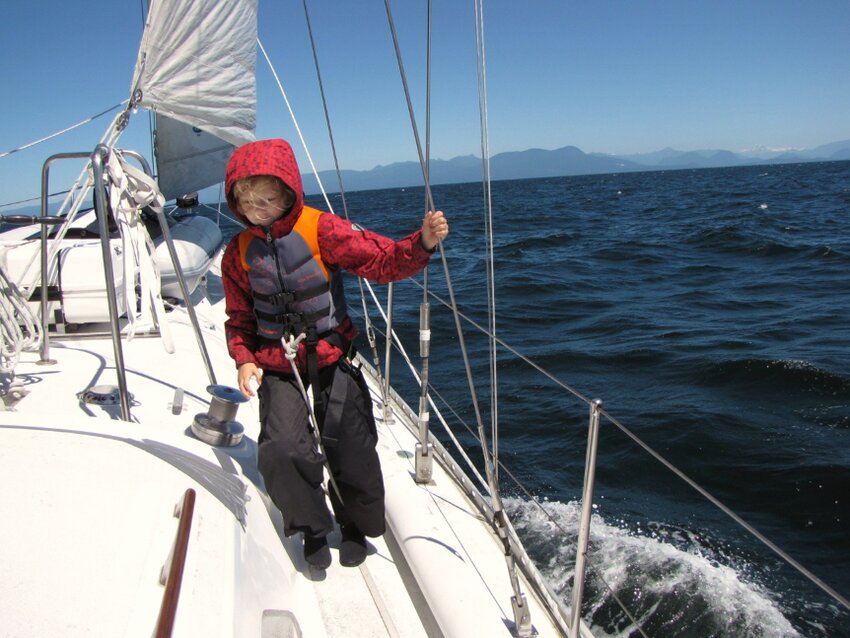 We leave Bedwell Harbor and head for Gabriola Pass, our chosen route out of the Canadian Gulf Islands and into the Strait of Georgia. It is a windless day, so we motor along past Ganges, Montague Harbor and Clam Bay. Orca whales make an appearance and bless this first day as we watch their misty spouts drift between evergreen islands and us.
We find safe and convenient anchorage in Kendrick Bay, where we feast on Thai steamed fish before launching the paddleboards. This is where having a 7-year-old crewmember comes in handy. Ever anxious to explore the shore, she pushes us into a paddle just before sunset. We land at "Tiny Island," (named by Dagny), where the sandstone warms our toes and the tide pools are warm enough to encourage wading and splashing. Taken together with the whales, it feels like we are making all the right choices. We bask in
this moment.
Building a small business is fraught with difficulties, late nights and unknowns. Six years in, moments like this are beginning to grow into days. We feel lucky. Long nights spent scrubbing bilges, pulling hydraulic hose and working on deck by headlamp are beginning to resolve into an image of a gorgeous boat anchored against the sunset. I want to take a picture of my husband and daughter, silhouetted on their boards against the orange of the sky, but the moment is too beautiful. I can't look away to get my camera.
In the morning we head back out into the Strait of Georgia, where the water is heaped up and white capping with the wind gusting to 30 knots. We raise the main sail and steam straight into it. At the bow, Dagny rides the growing swell as the boat climbs and drops over each wave. It is a sloppy, lumpy day in the strait, and we pile on warm layers against the wind's chill. Then, just north of Texada Island, the wind vanishes, the water glasses off and we strip down to T-shirts. Pulling out our multiple cruising guides, we pour over possible destinations, anchorages and places we haven't been. There is so much to see. Our three weeks suddenly seems like a bad joke. We need three months, three years...
We decide on Tenedos Bay in Desolation Sound, and drop our anchor close to the cliffs on the western side. In the morning, over freshly baked raspberry scones and coffee, we discuss the day's possibilities. There are warm, blue-green waters to paddle on our boards, hiking trails and a nearby lake. We decide to do it all.
After packing a lunch and water for the day, we launch the boards and embark on a tour of the bay. We explore passages and coves too small for our boat. We paddle to the trailhead, where we picnic on hot rocks on the beach. Dagny explores, rounding up a collection of shells and calling us to see the sparkling black snake she has found, who is clearly enjoying the sunny beach as much as us. Our hike to the lake ends in swimming, laughter and sitting motionless while dragonflies alight on our heads and arms.
Paddling back to the boat, we are certain that dinghies are overrated, and in fact we never launch our dinghy for the duration of our trip. It lays serene on the foredeck, while at each anchorage we launch the boards and explore by SUP. We are quiet. We glide through narrow passes and channels barely deep enough to dip a paddle. We spy down upon ochre sea stars, kelp beds, jellyfish and sandstone reefs. We visit beaches loaded with salmonberries, and carefully lift the boards up on rocky islets where we swim, dry out on hot rocks and swim again. We are sailing and SUPing, and the two seem made for each other.
At the outset of the trip we had hoped to find good surfing as well, but over 50-knot winds from the north closed Johnstone Strait and thus the west side of Vancouver Island to us. Our philosophy is to let the weather, the winds, tides and currents inform our plans and decisions. This time, the weather selected paddleboards over surfboards, and we are having an incredible time.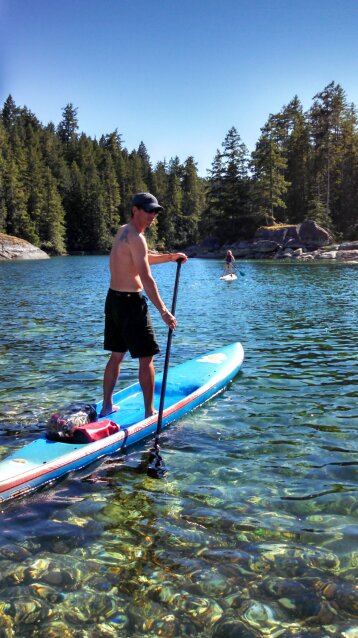 In Prideaux Haven we set out to circumnavigate an islet on foot, an exploration that includes shoreline rock hopping, deer-trail following and just enough rock climbing for feet clad in sandals. Back on our boards we adjust our stances for the paddle home. Exploring by SUP has given us an unexpected intimacy in each anchorage we visit. A phrase said once in semi-jest has become a mantra for this trip, as we find ourselves fully immersed in place and time: "We live here now." x