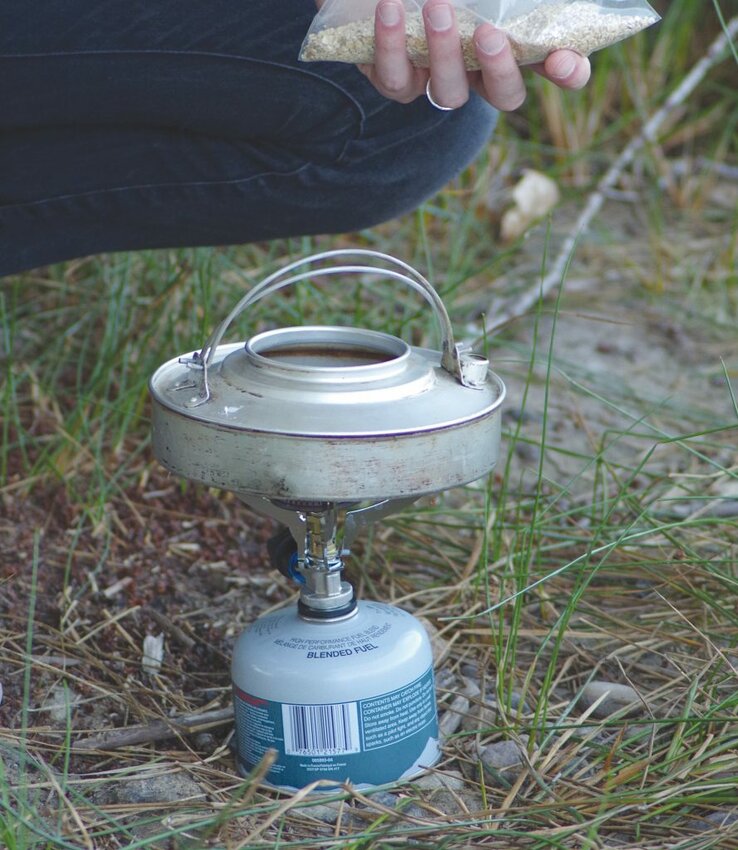 Story and photo by Kara Furr
Freezer bag cooking is nothing new for experienced backpackers looking to keep a pack light, but it's useful for more than just cutting weight. Freezer bag cooking has the added benefits of making clean-up a breeze, since you can eat straight out of the bag, and your cook pot is only used to boil water, which can also save you fuel.
The method is just what it sounds like – fill a freezer bag (no sandwich bags please – they won't hold up to the boiling water) with dehydrated or quick-cooking foods, top up with boiling water, seal and insulate the bag, and wait for your food to rehydrate.
While companies such as Mountain House and Backpacker's Pantry make great freeze-dried meals, making your own single-serve packets is a great way to control both cost and ingredients, in addition to making it possible to enjoy a greater variety of foods on your adventures.
Freezer bag cooking can be as complicated as dehydrating your own fully cooked meals, or as simple as grabbing a few things at your local grocery store.
Here's a simple recipe to get you started using readily available ingredients:
Couscous Primavera
---
Supplies needed: Quart-sized freezer bag, cook pot, spoon, bag cozy
In a quart freezer bag put:
• 4 ounces couscous
• ¼ cup freeze-dried mixed vegetables, such as Just Veggies
• ½ cube chicken or vegetable bouillon, crumbled
• ½ teaspoon Italian seasoning blend
• Pepper to taste
Bring on the side:
• 1 tablespoon or 1 packet olive oil
• 2-3 tablespoons shelf-stable parmesan cheese
Optional: foil pack chicken or salmon
To cook: Combine all ingredients in freezer bag. Boil 2 cups water and pour into bag. Seal bag and place in a cozy (a foil-lined bubble mailing envelope is a common, lightweight hack. A jacket or sleeping bag works in a pinch) for 10 minutes. Drain any excess water and eat.
---
Other simple ideas:
• Instant Mexican-flavored rice, dried refried beans (available in most bulk bin areas) and hot sauce
• Instant rice, freeze dried vegetables, ground ginger and garlic, shredded beef jerky and soy sauce packet
• Ramen noodles (minus the seasoning packet) or rice noodles, freeze dried vegetables, bouillon, red curry powder, dried basil, red pepper flakes and chopped dried shrimp (available at your local Asian grocery)
Tips:
Don't skimp on your freezer bags – use high quality name-brand bags to reduce the risk of leaks.
Make a great makeshift bag cozy by lining a bubble mailer with tin foil, or, if you're feeling brave, just use your sleeping bag or coat.
Prepack your freezer bags only with truly dry ingredients. Anything with moisture, such as parmesan, jerky, nuts or chewy dried fruits should be kept in a separate bag to prolong shelf life.
Instant mashed potatoes are a great base on their own, but they can also add bulk and creaminess to a variety of recipes.
Couscous, rice noodles or deep-fried ramen noodles are your best bet for pasta, as none of them need to boil in order to cook fully.