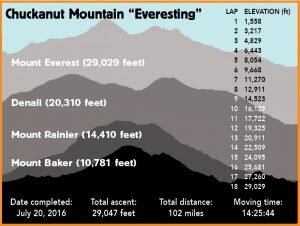 By Spencer Paxson
One morning in late July I set out on a mountain bike ride to Chuckanut Mountain, pedaling up its western flank along Fragrance Lake Road, then down the Double Black Diamond trail to the bottom, doing so again and again until I had covered more than 100 miles and climbed and descended the equivalent of Mt. Everest. Up to that point, it was without question the most colossal ride I had ever done.
This was not so much a ride as it was a spiritual experiment. Despite sharing the experience here, it was a singularly personal endeavor, neither for training, nor exhibition. I needed to do it for reasons I had hardly begun to untangle. The absurd concept of climbing 29,029 feet in a single ride struck me just a week before, while I was in Mammoth, California preparing for my last major race of the season.
For the previous six months, I had been deep into another quest – traveling around the world, competing in high-level mountain bike competitions with the ultimate goal of qualifying for a spot at the summer Olympics. It was a phenomenal adventure, but the bid itself was unsuccessful. The United States only qualified one starting spot for the Olympics, and despite my efforts, I was third in line at best. Though I knew the journey itself was the true prize, a small part of me struggled with a sense of failure, and perhaps also a sense that something was missing, like the right chord to end a song. I had accepted that this specific Olympic and World Cup quest was over, but now I felt like it was stuck on a flat refrain, unworthy of the grand symphony that preceded it. It deserved a strong resolve.
My first harebrained intention was to climb 20,000 feet in a day. The most climbing I had ever done in a single day was just over 11,000 feet, and nearly doubling that seemed daunting enough. That is, until I suddenly recalled a friend mentioning the concept of "Everesting:" repeating a climb until achieving total elevation gain of 29,029 feet. I later discovered that "Everesting" is indeed a thing; there's a semi-formal organization based in Australia called the Hells 500 that's spreading the concept around the world. There are rules and even an "Everesting" Hall of Fame. When I looked into it on the Hells 500 website, less than 2,000 people in the world had Everested, and only three in Washington state. If I pulled this off, I wouldn't be setting any records, but I would be the first in the state to do it on a mountain bike.
That was all the extra encouragement I needed. I shared my plans with my wife, and with my two closest friends the night before over a few beers.
The climb up Fragrance Lake Road to the Cyrus Gates overlook at the top of Cleator Road gains just around 1,600 feet, plus another dozen or so on the way back down the trail. Each complete lap is just over 5.5 miles. The average gradient is a manageable 8.5 percent comprised of mostly gravel and dirt road with a few sections of narrow trail. This spot came to mind because of its scenic and quiet climb route, and an excellent trail option for the way down – the Double Black Diamond-Double Down trail is a singletrack gem, completed just a year prior through a collaboration between the Whatcom Mountain Bike Coalition and Washington State Parks.
To complete an "Everest," I would need to do 18 full laps. Having done numerous (and much shorter!) workouts on this climb, I estimated that it would take me around 16 hours to complete the mission. I specialize in fast-paced races that last for 90 minutes and cover 20 miles or less. My typical training rides average around three hours. A "solid" day is around 5,000 feet of climbing and descending. This ride would be six times the vert, five times the duration and over three times the calories. My regular five-Big-Mac training rides were about to be eclipsed by a 17-Big-Mac blowout. And it wasn't just the climbing that was intimidating. Descending the height of Mt. Everest on rough, dusty trail was going to be a separate challenge altogether. In short, this single ride would equal nearly a week's worth of good, hard mountain biking.
A "solid" day is around 5,000 feet of climbing and descending. This ride would be six times the vert, five times the duration and over three times the calories. My regular five-Big-Mac training rides were about to be eclipsed by a 17-Big-Mac blowout.
I made a basecamp for the day next to a log on the side of Fragrance Lake Road. Predicting that my unusual stash of Clif Bars, boiled potatoes, sardines, peanut butter cups, rice pudding, hemp seeds, chocolate milk and coconut water would either intrigue or irritate others enjoying the trails, I simply left a note that read "Pls do not remove :)."
And with that, the ride began unceremoniously at 5:50 a.m. with a bleep of my Garmin device.
I decided to mentally break it into thirds ­– six laps for each batch, three batches to the end, only three laps to get half-way through each batch, and three at a time didn't seem like so many. On this first lap it dawned on me that my 16-hour completion target might exceed the battery life of my recording device. If it didn't record, did it happen? My backup solution was to take a picture of my computer at the top of each climb. Hopefully my phone would last that long, too. In any case, it was extra incentive to keep the pace up and the breaks short.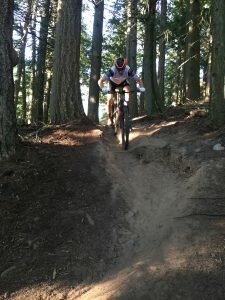 By 10 a.m., I had completed the first batch and nearly 10,000 feet. That is a big day by any standards, and I was surprised by how fresh I felt, as if it had so far been a warm-up. It's amazing how the subconscious mind can partition a massive effort into manageable sensations.
The reflections and the climbing continued. I also realized on the first lap that 18 repetitions was the same number of years I had been racing bicycles, so on each climb I would take a moment to recall the corresponding year, starting in 1998 with the Gorge Games in Hood River, Oregon – saving up for my first mountain bike, my parents taking entire weekends to drive me around the state for more races. By the time I surpassed my record for total ascent, I was on lap seven, approaching 12,000 feet and thinking about 2004, the year I started college and upgraded from "semi-pro" to "elite" in the NORBA National Series. I recalled something about a very steep climb at my first elite race in Durango, Colorado.
Around 4 p.m., I surpassed the 20,000-foot mark. On the climb for my 13th lap I reflected on 2010, the year I met the woman who later became my wife. It was also the year I had a break-out performance at National Championships in Granby, Colorado and qualified for my first Elite World Championships. That was the year things really started to get serious. The climb was also getting serious now.
On the 15th and 16th laps, approaching 25,000 feet, I was feeling it. The descent was the most painful. I also began to feel the release. In miles per hour, 25,000 is the escape velocity for earth's gravitational pull. I was escaping from my own gravity. Part of it was that my wife, Sarah, had joined for these two laps. What I felt was a sort of harmony building. Was it that resolving chord I had sought?
Harmony amidst this present summons up and down the hill, this pastime on two wheels that had ceaselessly ensured that my life never passed a moment unlived, the people who had fostered the connections to live that life, this body that carried me, this place I called home, this person who was my life partner. This was the place I had always sought, and had been there before, but now it felt more liberating because of the resolve it brought to this latest adventure.
Results rankings, training targets and podiums all washed away. There was no singular desire I could comprehend a need for over simply existing there at that moment.
On the last two laps, I was alone again. I reached the top of Cyrus Gates just as the last sliver of red sunlight snuck below the cloud line. Year 2016, 15 hours and 35 minutes. Elevation 29,047 feet.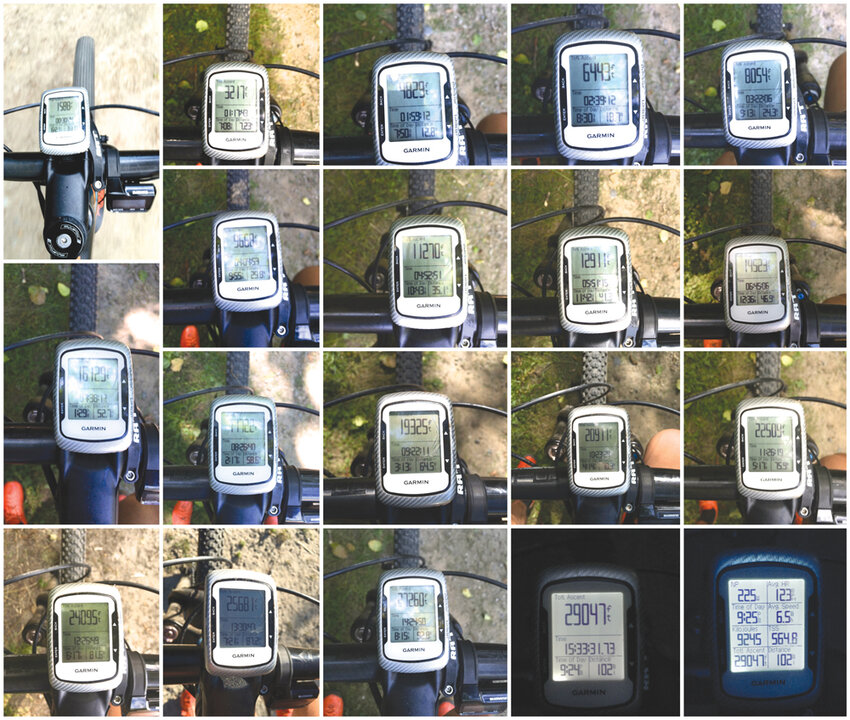 Spencer Paxson is a Bellingham local and Pacific Northwest native who rides professionally for The Kona Bicycle Company.