Solo backpacking to Wing Lake and Black Peak
Story and photos by Skye Schillhammer
I spent most of my life hiking, backpacking and exploring the lakes and mountains in the North Cascades. Along with my family and friends, we climbed volcanoes, completed high alpine traverses, fished as many lakes as we could find on the map, and scrambled up to any high point in sight. As I look back on those times it all feels like a blur. Memories of that time are sparse, with most of them being the moments where something went wrong.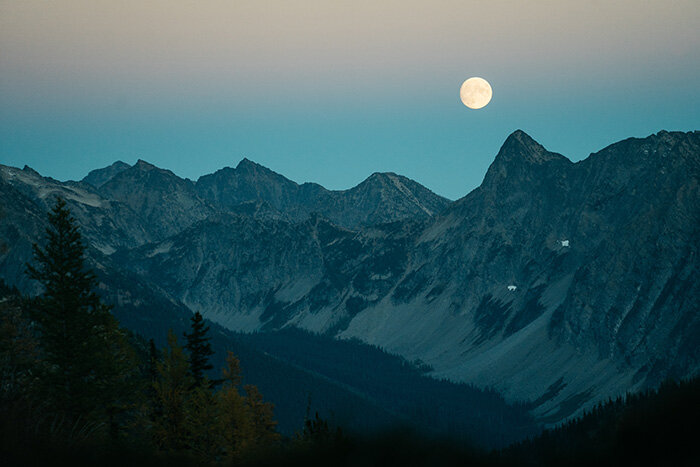 Fast forward to last summer, when my wife, Carly, and I had just taken home our first puppy, Echo. Like most pups, he was a ball of energy and I was doing anything I could to get his wiggles out. With fall colors in peak season, I was eager to get out while it lasted.
With Echo only 6 months old, I didn't want much pressure on our destination or goals, just to spend time outside with him in the crisp fall air after a hot summer. As I loaded up Echo and my parents' dog, Scout, I realized this would be my first overnight alone in the backcountry. It honestly shocked me.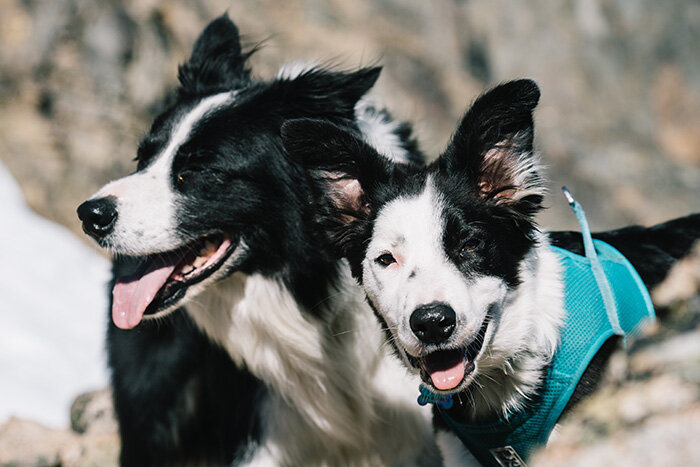 I poured back through any memories I could conjure of past backpacking trips, and realized I had always been with other people. A small amount of anxiety kicked in, but away we went.
To see the best fall colors, I headed up Highway 20 to Rainy Pass, where larch trees glow bright yellow and orange this time of year. We kicked off from the Maple Pass trailhead and started working our way around the loop. With my camera in hand, Echo and I leapfrogged our way along. Me snapping photos every few hundred feet, and him sniffing and playing with everything in sight. What would normally have been a painfully direct route to the top was a meandering stroll through the most beautiful landscape.
I found myself admiring the unique ways the sunlight illuminated the larches. Some backlit, glowing intensely, while a bold few were barely grasping onto steep cliff faces, catching just a sliver of sunlight. Others in groves stood out as the sun baked them, saturating their vibrant tones. With no one else's schedule but my own, I took as much time as I desired to admire, shoot and move on. As I hiked from tree to tree, I also watched Echo going through his own processes. Each boulder was a new challenge as he hopped and skipped through the talus field. Every so often I'd hear a soft whimper when he wasn't able to make the gap, so I'd clamber back and scoop him up for the rescue. Making progress with each small endeavor.
At the pass we took a detour off the main trail and headed out toward Wing Lake. A less traveled to spot, as it requires a long and strenuous approach through what feels like an endless boulder field. We dropped camp here, ate lunch and relaxed in the midday sun.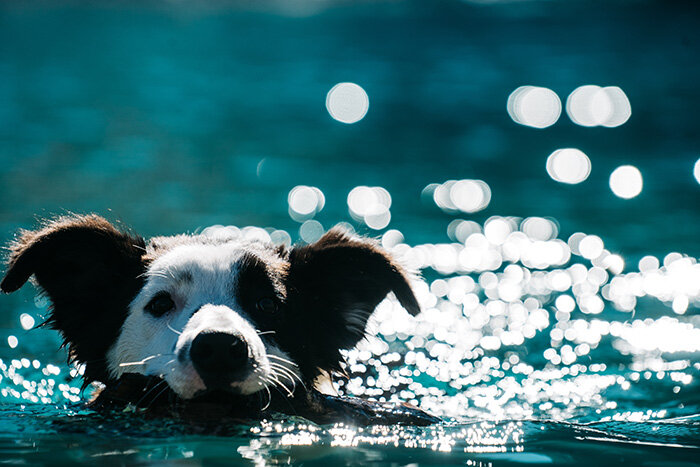 As I hung up my soaked shirt to dry, I began realizing how much more I was really taking in my experience. Even with just a half day under our belts, I had really immersed myself into the backcountry. When hiking with a group, I think I get caught up in underlying competition, conversation and links to the world back home. But here, with just me and the dogs, I was only in this place and time.
I rested myself and the pups until they showed some signs of wanting to head out again. Without the heavy pack, we circumnavigated the lake, taking time to fetch for sticks in the icy blue water. We worked our way toward the pass just below Black Peak. This was by far the most intense climbing Echo had ever done, and the scramble even had me a little intimidated to do alone. Being on the shady north side of the hill, we were greeted with a warm updraft and direct sunlight when we reached the pass.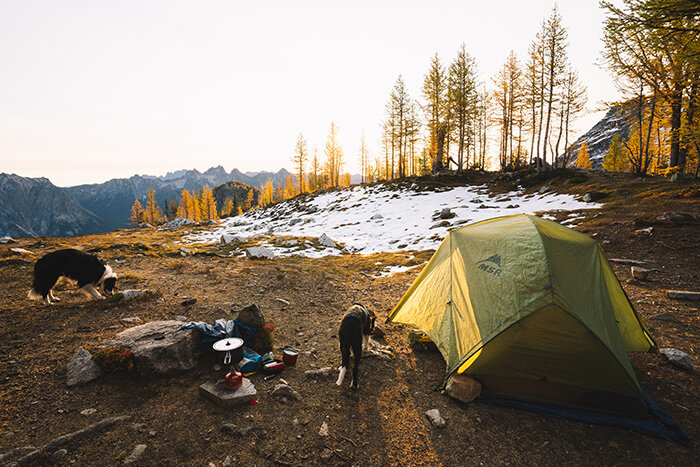 On every other hike I'd been on, a push for the summit would have been a must. But on this day, I kicked off my boots, found a nice big rock, and sat back for a nap. This may have been a first for me, and a moment I'll never forget. We basked in the sun, feeling the warmth off the rock as the sun moved down in the sky.
Back at camp, the dogs and I cooked dinner and climbed our way into the small two-person tent for the night. It was a tight fit, but with a pup on each side, I couldn't have been more comforted for my first night out alone. A full moon slowly rose, and kissed the entire landscape with a soft glow. We peered out and watched the moon move across the sky, creating tiny sparkles on the lake, with nothing but the distant sound of waterfalls higher up in the basin.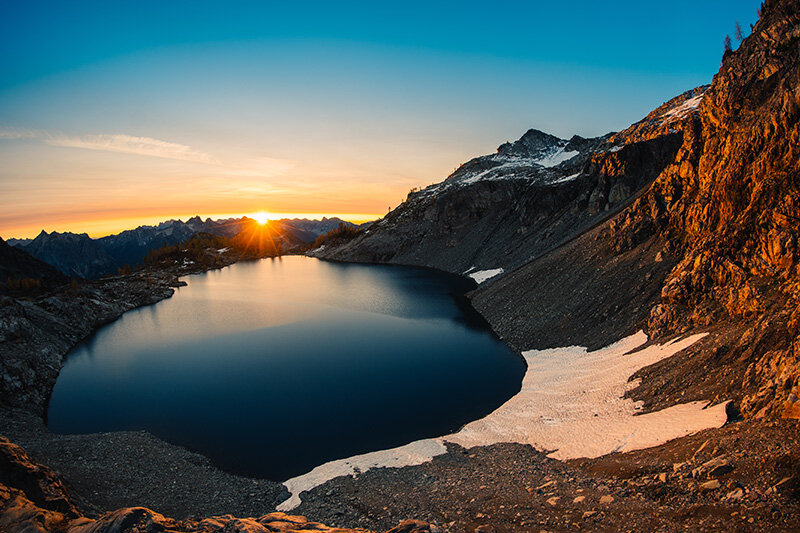 The next morning I awoke with the sunrise, let the pups out and started packing up camp. I expected to be filled with vigor to push a little deeper, explore over the next ridge, or find a new and exciting route, but a deep sense of nostalgia took over. In just a single day and night away, I had the time to think inward, and move through my own thoughts much like I did the landscape. It was my own sort of meditation that was both calming and exhilarating as I worked my way through and over every mental and physical barrier I encountered. This left me wishing I had someone to share it with, my wife coming to mind first, followed by my family and friends who were stuck at work back home. I knew they too would have loved this time in the mountains, and appreciated it all the same. So without really processing it, I packed up, and started moving my way back home.
My first solo-backpacking trip was a short one, but left a lasting impression. Everyone has their own balance of social activity, and for me, I need some time to go solo. It helps me connect with the experience on a deeper level, and I came home with more appreciation for the time I have shared and will continue to share with those closest to me in these great places. x
Skye Schillhammer is a rider, photographer and cinematographer for Transition Bikes in Bellingham. When he's not on assignment or on a bike, you can find him deep in the woods building trails and soaking in the PNW.