Hana Beaman, along with Barrett Christy and Robin Van Gyn, organized a women's jam last year at Mt. Baker Ski Area called Lay-Back Weekend. The party started with a kickoff on Friday, January 5, and continued through the weekend with a laid-back snowboard contest, a skate ramp, a camp-out in the parking lot, snow safety course, and after party. It rained most of the weekend, but that didn't seem to dampen anyone's enthusiasm for the gathering.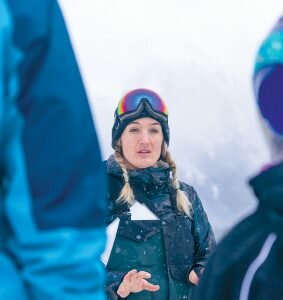 Mount Baker Experience: How did Lay-Back Weekend go?
Hana Beaman: It was insane! It was so fun. We were really happy with the number of girls that signed up. It was our first time doing an event like that, so we had lots of ducks to keep in a row. Behind the scenes we were like, "Oh my god, is this going right?" But the girls said they had an awesome time and they couldn't tell that we were losing our minds planning it. I wish we could have ridden with them a little more. Everyone's really excited and hoping that we do it again, which I think we are.
Why did you want to get involved with Lay-back Weekend?
I wanted to create a fun, positive place for girls to come and shred and try new things. It's really cool to just be able to connect girls with new riding buddies, because it's a little intimidating to just go out and try stuff on your own or do it with the guys.
For me, I love watching the guys and I love riding with the guys but I was always starved for female content. As soon as you see a girl try something, I don't know what clicks in your brain but you're like, "a girl did it, I can do it."
Maybe you want to try skateboarding. Maybe you just want to try a new trick on your snowboard – riding with the girls just gets you psyched and wanting to try it. When you see other girls trying something and failing it makes you a little less timid.
Is the number of women in snowboarding growing?
The women's numbers are growing and they've been growing for years. That's something I don't think the snowboard industry has really acknowledged until the last year or two. It's this battle we have had for years. We are valuable too and we have a strong voice in the action sports industry in general. I think the industry is finally seeing the impact from all those girls who have been joining the party. I think that's why you see a lot more focus on women's initiatives and women's products, because there are finally enough women out there that you can't ignore it.