Story by Oliver Lazenby
Bike rack anxiety goes like this: you're bouncing up a dirt road to the trailhead. A rack full of bikes is bouncing along with you, and they could be worth more than the car they're hitched to. After every bump and rut you sneak a glance in the rearview mirror to check for signs of movement and to affirm the bikes are still there.
Brandon Weekley found a bike rack to ease that anxiety, and it came out of a garage in Blaine, Washington. The rack was the second version of a homemade rack with a unique design – it holds bikes vertically from the front tire, using a triangular basket that touches only the tire. Even on a rough road, the rack doesn't rub against bike frames, wheels or other metal parts.
"My friends and I all have $10,000 downhill bikes and putting five or six of them on one of those racks and driving to Canada to go to Whistler, it's a long way on the freeway," Weekley said. "But through the years I've learned to trust
the rack."
The rack's creator, Cody Fuks, started making bike racks for himself in his garage. A few years ago Weekley and others in the local mountain bike community noticed them on the back of Fuks' truck at the trailhead or outside the bike shop. Now, four years after Fuks moved to the Northwest from South Dakota and came up with his signature design, he has reluctantly turned his side project into a business called Recon Racks. He credits his friends and the local bike community for forcing him to start his company.
"I never considered going into business with it," he said. "They pushed me into the business because they refused to not have a rack. They were stashing money into my glove box as deposits."
Fuks has operated Recon Racks since 2014. On January 1, 2016, he quit his day job and the business "almost instantly exploded." In the first three months of this year, he sold as many racks as he did in all of 2015. Evidently, he can barely keep up with demand; once in April, he resorted to putting his bike in the back of his truck to go ride after selling his personal rack.
Fuks, 43, builds the racks in his garage on a suburban cul de sac in Blaine, where red camp chairs serve as seating and the waffle print of his shoe soles is stamped into steel shavings on the cement floor. Compact with thick, tattooed forearms and a salt-and-pepper beard that sticks out under his welding hood, Fuks is a harsh critic of his work. He sees the things that could still be improved, rather than the successes that caused his friends to beg for racks of their own.
"I started really pushing for him to make something out of it because I love the design," Weekley said of Fuks. "He just wanted to sell a few of them here and there and I pushed him to go big time. It was hard. He definitely fought me for a while."
Fuks started learning fabrication as a high school senior in the flat farmlands of southeastern South Dakota. He spent 13 years welding parts for four-wheel-drive forklifts. The work was "high-speed, factory-style welding."
When he started mountain biking at age 30 – a struggle that involved lots of travel to ride decent trails – he started building his own bike racks. In fact, he's never actually bought
a bike rack.
"I've been driving home with broken racks in the back of my truck trying to figure out a good rack system for the last two decades," Fuks said.
His concept of a good bike rack changed after he moved to Blaine at age 39 in search of a better quality of life. In the Northwest, he found people rode in bigger groups; in South Dakota, he only knew a few other mountain bikers. That challenged him to build a rack that could hold five bikes while still surviving the journey to the trails deep in the woods that he likes to ride.
Now that his racks are out in the world, he delights in the photos and videos people send him of his racks hard at work, including a recent video of a Recon Rack firmly attached to the back of a truck stuck axle-deep in mud. "The worst conditions possible is what I want these racks to stand up to," he said.
He also gained more welding and fabrication skill after moving to the Northwest. At first, he worked at TriVan Truck Body in Ferndale, doing higher precision fabrication. Most recently, he worked for Architectural Elements, a firm that does artistic and architectural metal work: $10,000 picture frames, one-of-a-kind copper fire bowls and planter boxes, for example.
"That's kind of where I learned details and precision," Fuks said.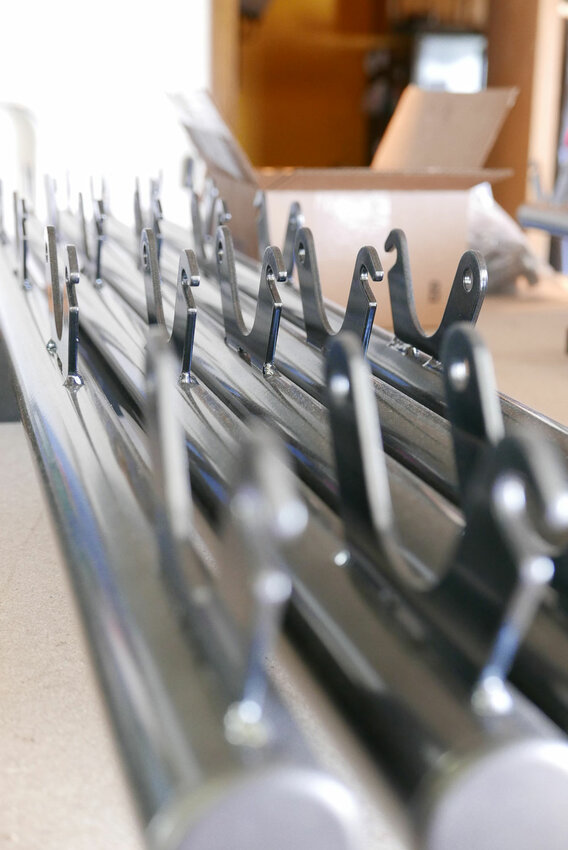 Though Fuks is talented with a welding torch, Recon Racks' greatest asset is simple design. They're intuitive, with few moving parts. The core of each rack is the basket that holds the front wheel – something Fuks thought of while sitting at a stoplight and staring at the bike rack on a metro bus. Those racks also held bikes by only the tires, but in a different way.
"It's definitely the easiest rack to load and unload. You just pick the bike up, put it in, do the strap around the wheel and you're good to go," Weekley said. The bikes also don't rub against each other or the rack. There's no "bike sex," as Weekley calls it.
It's a design so simple Fuks hesitates to claim responsibility. He says he stumbled on it. That metaphor elicits a parallel to humans discovering fire – a resource harnessed, not invented.
"I don't even know if I can take credit for it," Fuks said. "It just kind of fell together
for me."
Going into business came with new challenges. His racks had to be shippable, and individual parts had to be replaceable. He's still uncomfortable with the idea of marketing and advertising, preferring when people discover the racks on their own or through a friend.
"You know you walk into a shoe store and someone talks you into a pair of shoes you might or might not have wanted and you go, 'oh, crap?'" he said. "I don't ever want someone to spend $1,000 on a rack and have it not be what they wanted."
Yes, that is about what they cost, depending on size and options.
Recon Racks' popularity in the industry has helped it grow. After Fuks sold a rack to a Cannondale rep, word spread throughout the company. Early this year he got a call from Cannondale's demo team, people who drive around the country with 40 brand new demo bikes. They wanted a rack system for their trailer. Fuks built them a wall-mounted rack in 10 days, and now the demo trailer is cruising around the country.
Fuks is constantly changing his rack. He says he still hadn't built a dozen of the same version, and he's always coming up with new ways his racks can hold tools (they can even hold wheelbarrows) and trying to perfect the mechanism that allows the rack to fold for rear door access.
He recently finished a new prototype with a streamlined basket design and it's time to test them. For that, he's turning to the same community that pushed him to start the business.
"I'm going to give it to some of the worst drivers I know and tell them to go beat the crap out of it," he said.
For more info, go to recon-racks.com. x