A bike-cleaning tutorial
By Callie Waldschmidt
Photos by Brian Chapel
With the onset of fall in the Pacific Northwest, cyclists rejoice. The dust of summer is subdued as cooler temperatures, misty mornings and that endless drizzle welcomes us back. Something amazing comes with this glorious fall weather: the thick, loamy mud that makes our trails so legendary and our riders so competent. Mud translates to fun times and brings the feeling of satisfaction when rolling off the trail absolutely filthy.
However, grime is not good for your bike, and while the garden hose method might get the mud off, it can also rinse off the necessary lubricants, as well as potentially allowing water into the frame. Beyond the hose and some other useful tools, all you need is a little time, a lot of degreaser, and a cold beer in hand. With this treatment, your bike will be as happy to play in the mud as you are.
Frame and wheels
Tools:
• Large soft brush for wheels and tires
• Rags or a soft sponge for frame
• Frame cleanser (sold at bicycle shops) or a bucket of warm water
Frame and wheel cleaning is pretty straightforward: gently scrub the wheels and tires and wipe the frame down with soft rags. For marks on the frame you can use a little degreaser sprayed on a rag, but be careful, as some degreasers can remove paint. For dirty grips and grip tape, the rough side of a sponge and a little degreaser can get stains off.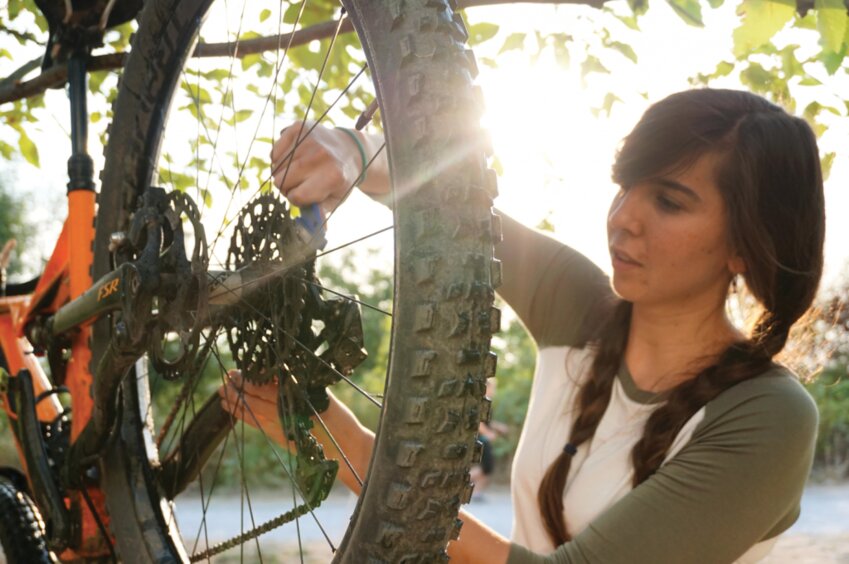 Drivetrain
Tools:
• Toothbrush or coarse bristled brush
• Degreaser
• Rags
• Chain lubricant (lighter lube for summer, heavier for rainy weather)
For the front and rear derailleurs, simply use a brush to scrub off any buildup. Degreaser may be necessary for heavy buildup. For the cassette, a toothbrush comes in handy when cleaning gunk out from between the cogs. For the chain rings, just brush off the teeth and wipe the crank arms with a rag to make them shiny.
When cleaning the chain, start by spinning the crank arm backwards while holding a rag sprayed with degreaser directly onto the chain for a few full rotations. Once the chain is clean, dribble on chain lubricant while spinning backwards for a few rotations to allow the lube to coat the chain completely. If you are not going to be riding for 24 hours, leave the lube to let it soak into the chain. If riding sooner, wipe the chain clean once again and your drivetrain will be sparkling!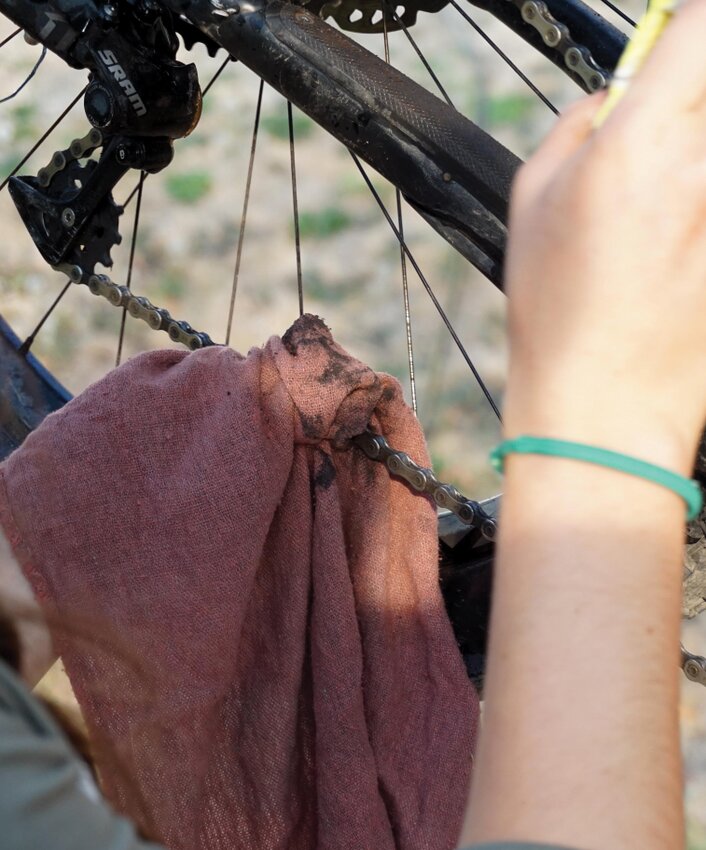 Disc Brakes
Tools:
• Isopropyl alcohol (70–90 percent)
• Clean paper towels
When cleaning disc brakes, isopropyl alcohol is the only product you should allow on the calipers, pads and rotors. Other fluids can contaminate the system and cause damage. Heavily spray alcohol all over the brake parts and then wipe them off with a clean paper towel. Sometimes you can quiet a squeaking brake just by doing this. Pad brakes are less sensitive and usually just wiping them off with a wet rag is sufficient.
Suspension forks and shocks
Tools:
• A damp rag
• Fork oil
When cleaning the suspension of your bike, be sure to use only a damp rag. Many household cleaners can deteriorate the rubber seals within your fork and shock, so to play it safe, stick to water and wipe gently to avoid scratching the stanchions. After cleaning, it is a good idea to rub a little fork oil back onto the stanchions to keep them lubricated. You can do this with your fingertips, working the oil into the seals where the stanchions meet the lowers of the fork and the connector pieces of the shock. x