Story by Katie Griffith
Photos by Kat Schaumberg
Head into Fairhaven's Hundred Acre Wood Park on a Wednesday around noon, and you might just stumble across 20 children sitting on stumps and logs, quietly eating lunch and listening with rapt attention to story time. This is the weekly routine of Mossy Mentors, a new forest school for kids that gathers rain or shine to unplug and connect with the natural world.
When Kat Schaumberg and Katie Robison first met, they immediately started talking about creating an outdoor program together. Kat studied environmental education at Western and has worked as an outdoor instructor for years, and Katie has a background in Montessori education. Until the pandemic hit, their shared vision felt like a far-off dream. After hearing about so many young kids spending their days in front of screens as their main form of learning and connection, their plan felt more urgent.
Kat recalls them saying to each other, "We can do this, and this is actually a need in our community right now."
Kat and Katie founded Mossy Mentors at the end of September 2020. Yin Dwyer, who has worked as a pre-school teacher and met Katie through an informal outdoor play group, joined as the third founder. Within a few weeks, there were 24 young forest explorers signed up to connect with nature in the Fairhaven park. The Bellingham school district's distance learning schedule leaves Wednesdays free for most students, so the program has been meeting weekly on Wednesdays from 10 a.m. to 2 p.m. With many extracurricular activities canceled, Mossy Mentors has offered something positive that families and kids can rely on every week.
"Our routine has changed so much that nature has provided Zoe that constant that she really needs," says Tana Kaiser, whose daughter attends Mossy Mentors. Zoe's time at forest school also provides Tana with a much-needed break to run errands, since she and her husband both work full-time while trying to support their daughter as she completes 2nd grade online.
After checking in with parents and taking temperatures, students at the forest school gather in a spaced-out circle to learn the theme for the day that will guide their activities, observations, and movement.
"Home" was a theme early on in the program, and the kids used sticks, moss, and ferns they found in the woods to build forts. Tana loved the collaborative nature of this project, saying the skills that Zoe used working with other kids will transfer to projects at school, and designing the forts gave them a hands-on lesson in engineering.
Erin Leedom, whose son Jack attends Mossy Mentors, started working again last spring, so the program lining up with her son's distance learning schedule was a big help. Erin also appreciates that "through all the lessons they're learning in nature and stewardship of the land, they're also teaching these kids how to take care of themselves in a way." The natural consequences created by the forest, especially when it's pouring rain and one of the kids refuses to zip up their coat, teach tangible lessons about choice and outcome.
A big moment for forest schools
Since forest schools fall under "childcare" in Washington, which is considered essential, similar outdoor programs resumed while public schools remained mostly online. Melissa Esposito, co-founder of Feather and Frond Forest School, started programming again in late summer after closing down in March. She has seen a big increase in demand, especially for their program that has traditionally served homeschoolers, since all kids are "homeschooled by default" this year.
"Forest school definitely satisfies the need for children to be outside and to stay safe and healthy and also be social," Melissa says.
Similar to Mossy Mentors, Feather and Frond encourages deep connections with nature, allowing play and curiosity to drive the learning. Children learn the names of trees and plants through the process of harvesting certain types of wood to make a fire or by creating a wild edible feast to snack on.
While Melissa says "forest schools are having a moment," she hopes for even greater integration of outdoor learning with traditional education beyond the response to the pandemic. Melissa has been teaching children in nature for 16 years, and she is glad to see forest schools becoming more normalized. "If it were up to me, public school would be four days a week, and forest school would be the fifth day for everybody."
Operating outdoors does not mean that the forest schools have let their guard down around Covid-19 safety protocols. Programs participants wear masks when they are within six feet of one another and socially distance when possible. At Feather and Frond, each group has a designated hand sanitizer fairy, a participant who makes sure everyone sanitizes before eating snacks or lunch.
Kat of Mossy Mentors sees masks and social distancing as an opportunity for kids to learn how to communicate about personal space. While initially she and the other mentors had to reinforce behavior, she says the kids self-regulate at this point, asking one another to mask up when they get close. Jack's mom Erin says that seeing all of the kids wearing masks when she picks up her son puts her at ease, and the program leaders have been very communicative around Covid-19 protocol.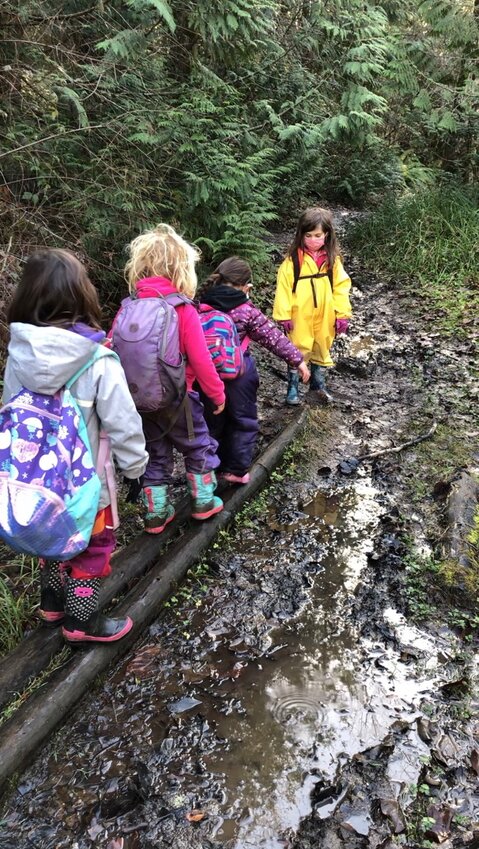 "The Littles" help each other navigate wet terrain.[/caption]
Outdoor education and public schools team up for solutions that work
Though public health experts have emphasized the benefits of outdoor learning this year, Covid-19 has been devastating for many existing programs. In a survey of 995 environmental science and outdoor education organizations completed last spring by UC Berkeley, only 22 percent of respondents said they would definitely be able to reopen if social distancing continued through December 2020, while 30 percent predicted that they would definitely be unable or very unlikely to reopen.
To mitigate potential losses to the outdoor education field, this report recommended that programs "redeploy environmental and outdoor science educators to work in K-12 school settings," partnering with school districts to get more kids learning outside.
In Bellingham, the Vamos Outdoors Project spearheaded a partnership like this over the summer, working with the school district to offer in-person programming for children from migrant worker families. This led partners within the Whatcom Coalition for Environmental Education to start conversations on how they could similarly support students in the fall.
The result of these conversations was the Connections Program, which brought together many existing outdoor programs and the Bellingham, Blaine and Mt. Baker school districts to offer in-person school support and outdoor enrichment for students who could stand to benefit most from it.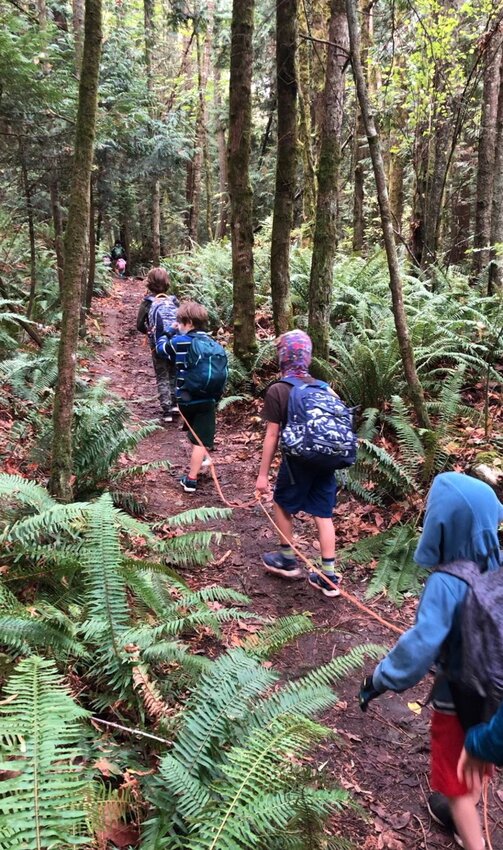 The older boys trust walk – guiding their blindfolded peers through the forest.[/caption]
Licia Sahagun, executive director of Wild Whatcom, served as the program lead for the partnership with Bellingham Public Schools. She said the school district played a crucial role in identifying which families to serve, since school counselors and principals were able to recommend students who were falling through the cracks of distance learning.
"If it weren't for Covid, we wouldn't have worked so closely at the district level," says Licia, and she hopes that this relationship building will pave the way for partnerships in the future. Licia would love to see outdoor learning implemented at every grade level, so each classroom would visit a local greenspace at least three to four times a year.
The next chapter for Mossy Mentors
In January, Mossy Mentors began offering a new "Forest Play Time" for three to five year olds, and they created a second time slot for kids ages four through ten on Thursdays. The program leaders are committed to making connections to nature accessible for all, so they offer tuition on a sliding scale and also offer opportunities for full scholarships.
Also in the works at Mossy Mentors is a year-round program for middle schoolers that Kat calls "Adventure Squad."
As a former participant and instructor of wilderness-based adventure education programs, Kat has noticed a gap between a remote backpacking experience and its integration into the day-to-day lives of youth participants. She hopes to build on these experiences during the school year, cultivating an on-going relationship with nature and mentoring youth to become active leaders within their communities.
As kids start to go back to school in person, forest school isn't going away, and for many families it remains the most fun part of their week.
When Jack started class in person again in January, his new schedule left Wednesdays mostly free. Erin thought she would want her son at home these days to check in, but Jack said, "No way! I'm not missing Mossy Mentors!" Time spent in the forest, exploring with friends and supportive mentors has become an integral part of his routine. As his mom Erin said, "It's a reminder that there are good things coming out of this pandemic." x