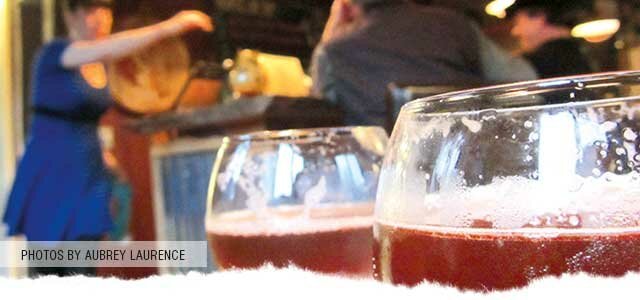 GOOD BREWS
Story and photos by Aubrey Laurence
New breweries popping up.
According to the Brewers Association, which represents craft breweries in the United States, 2012 saw a 15 percent rise in volume, a 17 percent increase in dollar growth and an 18 percent increase in the number of operating breweries in the United States.
"On average, we are seeing slightly more than one craft brewery per day opening somewhere in the U.S.," said Brewers Association director Paul Gatza, "and we anticipate even more in the coming year."
Washington has always been one of the leading states in the craft beer movement and it continues to grow at an exciting rate. There are now more than 170 operating breweries in the state, with at least 30 more in the planning stages.
The Bellingham area is no exception in the national surge of brewery growth.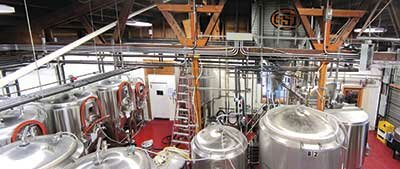 Kulshan Brewing Company
Before it even turned one-year-old, Bellingham's Kulshan Brewing Company doubled its brewing capacity last February by installing a new, 15-barrel brewhouse – along with eight additional taps – in an effort to keep up with demand.
"I think the Sunnyland neighborhood, and Bellingham in general, has received us with open arms," said Kulshan founder Dave Vitt. "People often tell me how much they love the beer and the taproom, and how much they like coming in.
"It's a great feeling to know that I took an old, empty building, made it comfortable, filled it with happy people and created a cultural hub for the neighborhood. But I feel like Kulshan's biggest accomplishment so far has been putting 19 people to work with jobs they love."
If things continue to go well for Kulshan and if it can keep up with demand, Vitt hopes to start bottling beers within the next year.
Menace Brewing Company
Menace Brewing Company of Ferndale, which Ben Buccarelli and Brandon Petersen opened in 2012, continues to gain thirsty followers. Presently, Menace brews are only available at Maggie's Pub in Ferndale and The Fork at Agate Bay in Bellingham, but it's not for lack of demand, as the half-barrel nanobrewery keeps plenty busy.
"When we're not working our day jobs, we produce just enough beer for our two accounts," said Buccarelli. "We are currently working on expanding the capacity of our brewhouse, and hopefully we will soon be able to handle a few more accounts."
The Menace brew crew, which also includes Tom Raden, brews two "flagship" ales, a pale ale and a red ale, and they are constantly experimenting with new recipes and ingredients. "We recently brewed a chili IPA that turned out pretty awesome," said Buccarelli.
Menace has also done some collaboration beers with the Bellingham Beer League, which is a cooperatively-owned brewery working hard to create a shared production space and a taproom. This "brewery incubator" will one day provide opportunities for start-up brewers to launch their own brands.
Island Hoppin' Brewery
Island Hoppin' Brewery on Orcas Island is cranking out a slew of delicious, hop-forward brews with incredible balance and drinkability.
Jim Parker, Nate Schons and Becca Gray opened the small brewery and taproom in Eastsound last September and ever since, they have been working tirelessly to keep up with demand. In fact, just days after opening, they realized they did not have enough capacity, so they immediately put in an order for additional 10-barrel fermenters.
"We have received overwhelming support from the Orcas Island community," said Parker. "Bellingham has also been really supportive."
In Bellingham, look for Island Hoppin' beers on draft at Elizabeth Station, The Copper Hog, McKay's Taphouse, The Green Frog and the Book Fare Café in Village Books. X