Story, art and photos by Gretchen Leggitt
I recall the exact moment, swimming in a sea of merriment at Aslan Brewing's one-year anniversary party, when my adventure sister Robin and I conjured up a dream to do a self-supported biking and climbing tour from Bellingham to the Bugaboos in eastern British Columbia. Four years later, we found ourselves pedaling our faithful steel steeds through the Bitterroots bound for the Wind River Range in western Wyoming; the Cirque of the Towers in the Winds was a reasonable trade-off for the granite towers of the Bugaboos, providing a stellar bicycle route lined with rivers, national parks and numerous friend-hubs along the way.
I became enamored with bike touring in my early 20s, drawn to the freedom of movement, flexibility and anonymity, paired with the captivating idea of crossing vast terrain, fueled only by grit and stamina. A few years into my two-wheel addiction, I loaded my hammock, climbing gear, sketchbook and watercolors and took off on a 1,700-mile solo tour across B.C., without a planned route or any specific goals aside from climbing in Squamish and Banff. I discovered my own style of bike touring: ditch itineraries, entertain gratuitous offers of food and wisdom from strangers, do not fear the unknown or cars and always pack climbing gear and art supplies.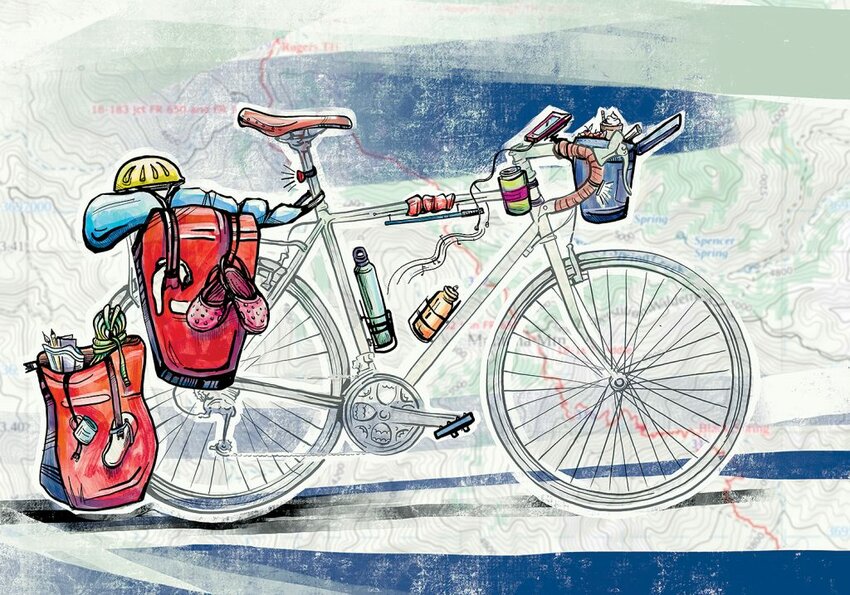 These surplus items open up sporadic opportunities that enrich the standard bike tour routine of miles, calories and an occasional swim. Biking, climbing and plein air sketching provide opportunities to discover terrain in a holistic manner, uncovering the ins and outs of topography both visually and physically.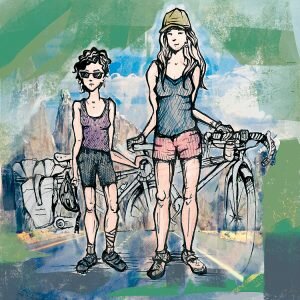 Robin and I initially planned to ride 80- to 100-mile days from Bellingham to Jackson, Wyoming. However, on day two, after a sporadic pop in Robin's Achilles heel as we pushed over Washington Pass, we ditched our itinerary and returned to my favorite mantra: adventure is inconvenience reconsidered. From here on, rest days and 10-mile bumps in the back of pickups were interwoven into our adventure to let her tendon heal. A purist might call that cheating. But a purist would miss out on flying down an uninspiring road in eastern Montana in the bed of a red Ford being driven by "the most conservative Congressman in the House of Representatives," or an unexpected rest day in Post Falls, Idaho, spent paddleboarding with the chief of the fire department.
Our winding path led us over the North Cascades and along the Methow River through plumes of smoke as Twisp burned. We fought brutal headwinds, 100-degree heat and disappeared into forests each night to cocoon in our matching hammocks. Alpine starts, riverside siestas and espresso milkshakes were our survival tactics through the heat and smoke. Idaho's countless lakes speckled with great blue herons and pelicans provided relief on the pristine 71-mile Trail of the Coeur d'Alenes. In Montana, our tires rolled over forest trails, gravel, trellises and pavement, bouncing between primitive logging roads, the Route of the Olympians rail-trail and Interstate 90.
Some kind citizens in Missoula prescribed a stellar route through the Bitterroots, passing the enchanting Quake Lake en route to west Yellowstone. Immediately upon entering the national park, we met two westbound bike tourers who appeared completely defeated from choking on exhaust from an endless chain of RVs. Leaving solitude and comfort at the entrance, we accepted the state of Yellowstone in peak season, embracing the cultural phenomena of modern tourism and reveling in the fact that we did not have to battle gridlock at each sulphur-scented detour. Old Faithful remained faithful to her spurts, but her lodge's all-you-can-eat buffet was more essential to our agenda.
On day 19, we exchanged our beloved bikes for our adventure partners Erin and Megan and began the 9-mile trek into the Cirque of the Towers, a Northern Hemisphere doppelgänger to Patagonia's Cerro Torre. Within the first day, we discovered its namesake was valid; rivers were abundant, as was the relentless wind. We scrambled up Tiger Tower's south gully to get an early start on Wolf's Head but were met by bone crushing wind and icy clouds. After great debate, we determined the weather would not complement the exposed ridge traverse and retreated to camp. There I reunited with my faithful Moleskine and Microns, with which I studied and rendered the routes we intended to climb.
The following days provided immaculate conditions to explore the pristine granite and abundant cracks on Pingora Peak and the classic Wolf's Head, which we agreed are some of the finer adventure routes in the lower 48. Twenty-six days later, with whole hearts, stinky clothes, calloused hands, sore hips, a full sketchbook, and neglected careers calling, Robin and I loaded our bikes and dirt encrusted panniers into our climbing partners' Subaru and raced back to our Bellingham homes where the smoke had finally cleared. Until my next adventure, I fondly flip through snapshots of this journey, captured in watercolor and ink vignettes.
Gretchen Leggitt is an avid athlete and artist who draws her creative inspiration from the natural world. Leggitt's wood burns and large murals adorn the walls of Bellingham and beyond. More at gretchenleggitt.com.