Story and photos by Oliver Lazenby
On the first frosty morning of fall, two men in safety vests jumped out of a Honda Ridgeline on a U.S. Forest Service road high above the Nooksack River, grabbed buckets from the back of the truck and shoveled a mix of crushed limestone into a pothole.
It's a temporary fix, but it should last a year or so. The men in the truck know how to fix a road to Forest Service standards, but they're volunteers. The group of mostly retirees, called the Citizens for Forest Roads, works weekly, in their free time, all year. A day of work could include patching holes, cutting brush and cleaning out ditches. It's hard work, but they do it to ensure that people can get to the places they love.
"It's important that the road system offers anyone who wants to come up and do anything legal in the national forest the opportunity to do so," said Doug Huddle, the group's organizer and a former fisheries scientist with the Washington State Department of Fish and Wildlife. "We need this road because we want to be able to come up here to hunt, pick blueberries, come up and enjoy wildflowers, see Mt. Baker – to come up and just get away from the madding crowd."
The group formed seven years ago and with the Forest Service's road maintenance budget declining, the work they do is increasingly necessary to keep the roads open. The volunteers work closely with the Forest Service.
Driving up Glacier Creek Road in his Ford Explorer, which smells faintly of gasoline from the weed whacker in the back, Huddle points out a cracking patch of asphalt. His car is full of buckets and tools from stocking lakes in the Chuckanuts with fish, a volunteer project from the day before.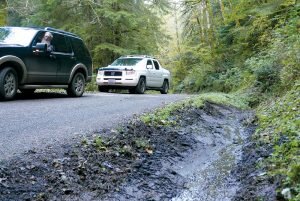 Huddle used to climb, hunt, fish and hike, but volunteering has replaced those things in his life.
"I've gotten to the point where those things are no longer quite as important to me," he said. "I've kind of adopted this as my forest experience – coming out and working on roads. It's just as meaningful to me now as coming up here 40 years ago to hike up Grouse Ridge was."
Between swerving around holes he has patched and holes he'll patch later, Huddle made frequent stops to explain a feature or disturbance in the roadbed, or just to better use his hands to get a point across, the open window blowing wind across the wispy ends of his foot-long beard.
Glacier Creek Road is a main focus for the group and one of the most popular roads in the ranger district. By early October, they'd spent nearly 1,000 hours on it this year, trimming brush, clearing ditches, patching holes and anything else they can do with hand tools. This regular brush trimming and ditch clearing can add up to huge cost savings for the Forest Service and a reduction in washouts and serious road damage.
Roads don't require much money to keep up, as long as an investment is made in terms of maintenance, said Roger Nichols, a retired U.S. Forest Service geologist and member of Citizens for Forest Roads. Over time, debris builds up in ditches until there's enough detritus to block water from flowing. When that water saturates the roadbed, chunks of road can creep downhill or slide away all together. "In this environment, it's water vs. the road," Huddle said.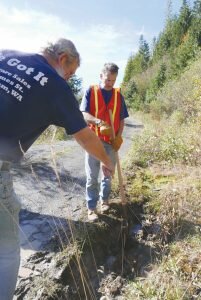 Citizens for Forest Roads also inventories necessary road repairs for the Forest Service, making it easier for the agency to write work orders to contractors for bigger projects.
"They're very important. They're our eyes on the ground," said Santino Pascua, roads manager for the Forest Service district. "I think in the Glacier area, people know that those guys are really dedicated."
The kind of work the volunteers do – regular surveying and maintenance – is shrinking along with the Forest Service's budget, which is strained by factors including declining timber revenue and growing wildfire fighting costs. Its local districts are especially short on staff. The cost of living in the Northwest compared to other areas where Forest Service personnel can work makes hiring difficult for the agency, Pascua said.
With our reduced staff – we're actually short half our staff right now – we have to get to the biggest fire.

- Santino Pascua, Forest Service roads manager
"With our reduced staff – we're actually short half our staff right now – we have to get to the biggest fire," he said. "Things like brushing a road, they usually get pushed to the side. We'll get to those things when we can."
On the way to the group's work site that frosty fall day, Huddle slowed to point out a divot left in the road from a 39-inch-diameter silver fir that fell from the slope above earlier in the year. The group cleared it from the road, but a 45-foot section of trunk was still resting in the uphill ditch. Huddle, who tries to make friends with everyone he sees, convinced some friends in Glacier to come cut it up and deal with it.
"I'm told by several people who are interested in firewood that they're going to come up and get the rest of this," he said. "That's what we're into – trying to manage for efficient, reliable, common sense solutions."
A little past the downed tree, Huddle steered around a mini-fridge-sized boulder that fell from a talus slope above into the ditch. The boulder weighs something like 3,500 pounds – too big for the volunteers to deal with. Or at least, they can't get to it all at once.
"Every time I come up here I bring my 16-pound sledge hammer and I beat it and I encourage it to disassemble itself," Huddle said. "We will gradually reduce it to a size where we can lasso it with a chain and drag it up the road and use pry bars and get it off the road."
Incrementally is how the group does much of its work. Nichols rarely passes by a rock in the road without stopping to move it, Huddle said. Also in increments, the group is building trust with the Forest Service. They don't do anything beyond what the agency allows and they do all their work to Forest Service standards, which Nichols is familiar with from his long career in the local ranger district.
Santino trusts and appreciates the group, he said, and it helps that Nichols is a part of it. Huddle thinks the agency was uncomfortable with the volunteers when they started in 2009 since the agency didn't previously need help with maintenance. This fall, however, the district ranger has requested that the group investigate roads after windstorms, and there could be more collaboration to come.
To get involved with the Citizens for Forest Roads, email Doug Huddle at douglas.huddle@gmail.com. x