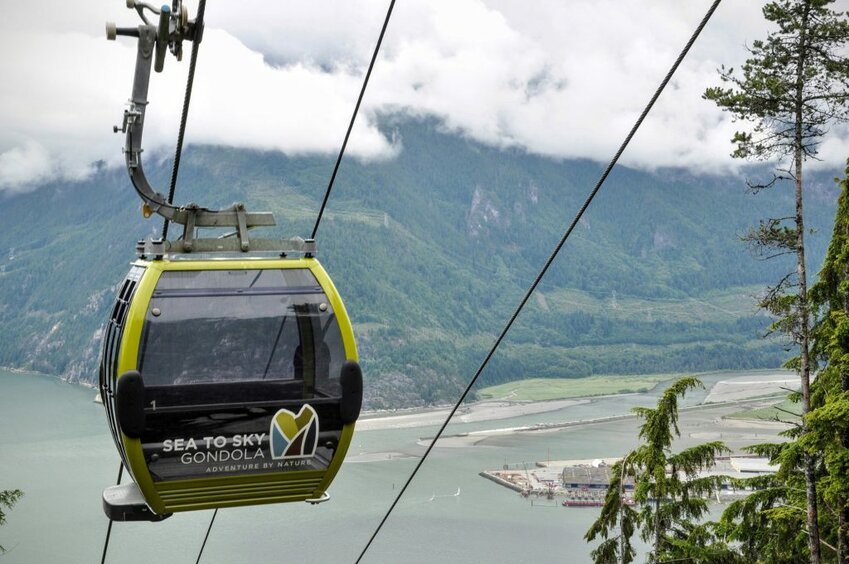 Story and photo by Brandon Fralic
Take a ride on the Sea to Sky Gondola near Squamish, B.C. Opened in 2014, this cable-and-cabin attraction whisks riders from basecamp to summit – a vertical rise of 850 meters – in 10 minutes.
A $22 million project, the Sea to Sky Gondola was built to provide trail access and attract tourists. The gondola is located between two of Squamish's best-known natural attractions – the Stawamus Chief and Shannon Falls – in the newly designated Stawamus Chief Protected Area. Sea to Sky Gondola's green cabins were designed to blend with their natural surroundings and reduce visual impact.
The gondola's destination, Summit Lodge, sits on a ridge northwest of Mount Habrich. Most visitors make their first stop at the viewing deck for sweeping vistas of Howe Sound, surrounding mountains and the coastal forest below. Next to the viewing deck, the 100-meter-long Sky Pilot Suspension Bridge is a "must-do" for all visitors, due to its unique photo opportunities and easy access.
Several easy walking trails are worth exploring. The Spirit Trail takes off from Sky Pilot Suspension Bridge, offering interpretive information along the way. Learn about the Squamish First Nation's history and culture on a short, 400-meter loop. For a longer walk, try the 1.6 kilometer Panorama Trail loop. Allow an hour to explore this trail's various viewpoints, including the Chief Overlook Platform. True to its name, this deck offers unparalleled views of Squamish's granite monolith, the Stawamus Chief.
Adventure seekers can experience a Via Ferrata course, in which you can ascend a granite cliff safely anchored by fixed steel cables. Backcountry trails are accessible year-round, for hiking during summer and backcountry skiing during winter.
Access: The Sea to Sky Gondola is 2 kilometers south of Squamish, right off BC-99. Free three-hour parking is available. For a longer stay, park at nearby Shannon Falls Provincial Park or the Darrell Bay parking area and walk 500 meters to the gondola basecamp.
Hours: The gondola is open year-round. Summer/fall hours through November 6, 2016, are 10 a.m. to 6 p.m. daily, with extended hours until 8 p.m. on Friday and Saturday.
Price: An adult round-trip ticket costs $39.99. Reduced tickets are available for seniors and kids. Buy online for special pricing (seatoskygondola.com).
Gondola cabins can accommodate skis, snowboards, wheelchairs and strollers. Dogs are not allowed to ride up the gondola but they may hike up the Sea to Summit trail and ride down for an additional fee. "Dog parking" areas are available at the summit.
Brandon Fralic writes about Pacific Northwest trails, ales, and travel for a handful of regional publications. brandonfralic.com