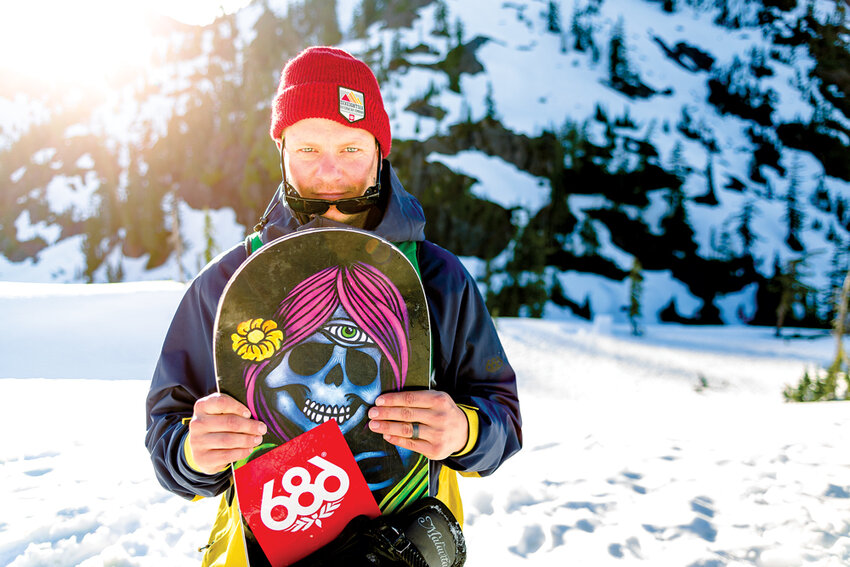 Story and photos By Brad Andrew
Inside a small home office just outside Bellingham, a man gazes out a window in sheer awe at the dance of heavy rain cascading down and dancing off the concrete patio below. Momentarily his eyes switch focus to the lawn just a few feet away and he watches as the grass absorbs the rain like a sponge.
This man is Patrick McCarthy, team manager for 686 Technical Apparel, a company known for its snowboard outerwear. Today, McCarthy is working from his home office, where he spends countless hours every summer and fall in video conferences with designers and marketers, formulating the strategy for marketing the brand's upcoming line.
Each winter, McCarthy puts that framework into action, producing photo shoots and procuring the stunning photos and video necessary to market the brand. As team manager he's a valuable asset to 686, but just a few years ago McCarthy was at the other end of the camera – a professional athlete for 686 spinning over cliffs and cornices – and a big name in snowboarding. But then, he suddenly stepped away at what seemed like the zenith of his career.
"You can sit back and wonder, could I have kept it going? But that's just not my style. I like to do things to the best of my ability and when I think that I am not able to anymore, it's time to evolve and move on," McCarthy said. "It was a tough decision but a natural one for me at the time."
McCarthy's evolution has allowed him to continue chasing his love for snowboarding, something he's been doing for nearly 30 years.
McCarthy's obsession with snowboarding started on the slopes of Stevens Pass when he was 9 years old. From then on, snowboarding consumed his life and became his gateway to freedom and expression. In the fall of 1998, fresh out of high school, McCarthy moved north to Bellingham to attend Western Washington University and, more importantly to him, to continue pursuing his passion for snowboarding. Mt. Baker, transcendent in snowboarding lore, seemed to McCarthy to be the ideal place to continue his evolution as a snowboarder.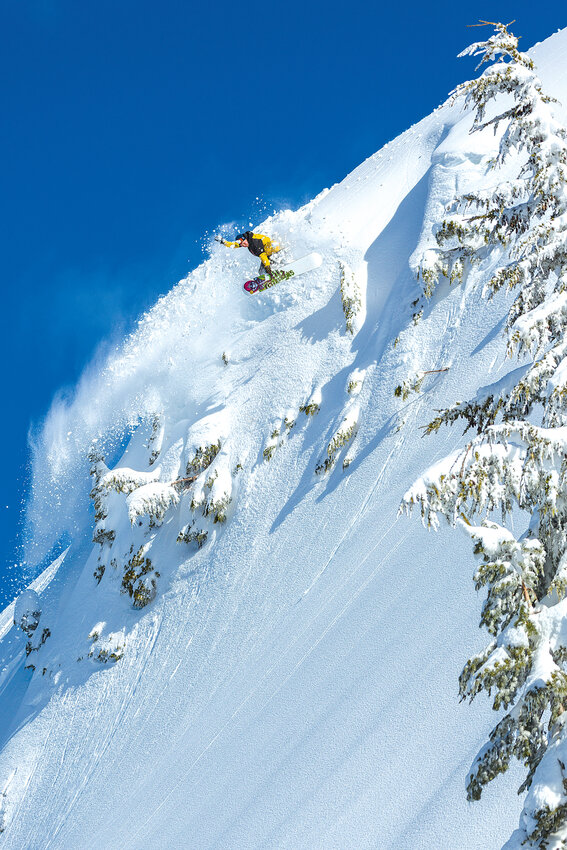 At Baker, the years of blood, sweat and tears McCarthy poured into his passion began to interest the snowboarding community and in 2002 he signed his first pro contract.
Being a professional snowboarder meant fighting to balance a meager travel budget and please sponsors while pushing himself as a snowboarder.
McCarthy excelled at it. His list of sponsors grew and so did his travel budget, until the days of ramen noodles, gas station burritos and couch surfing were over. Snowboarders all over the planet knew his name. Mainstream video parts, ads and interviews in magazines became commonplace. He had a pro model snowboard through his board sponsor, Option, and pro model gear through 686 and the list went on. McCarthy was front and center in the snowboard world and was being paid somewhat handsomely to do what he loved. He spent winters chasing the best snow on the planet and working with the industry's most talented videographers and photographers.
Inevitably, all dreams come to an end. Professional snowboarding is notorious for athletes who are fearful of letting go and for failing to come to grasps with the fact that their ship has long since sailed. McCarthy knew the career wouldn't last forever. After all, snowboarding isn't a desk job and it takes a toll both mentally and physically.
"When you hit your early 30s, your body doesn't bounce back quite as fast," McCarthy said.
From day one, McCarthy viewed his career as an opportunity to better himself and invest in his future.
"During my snowboarding career I wanted to make some investments in my future, so I was not left with a hangover and two bad knees," McCarthy said. "I bought a condo the first year I turned pro. I moved in with my friends and used my earnings to remodel it. Then I saved again and bought a cabin with my family in Glacier. Next I leveraged the equity from my first house and purchased another one while I rented out the others."
That's how McCarthy's mind works – always thinking and planning. He was never into the profession of snowboarding for the fame or the money. He was into it purely for the love of snowboarding. The career and financial success that came along with it was merely a windfall that allowed him to keep snowboarding – he knew that if he played his cards right he would have something left to show for it when the ride ended, something other than the bad knees.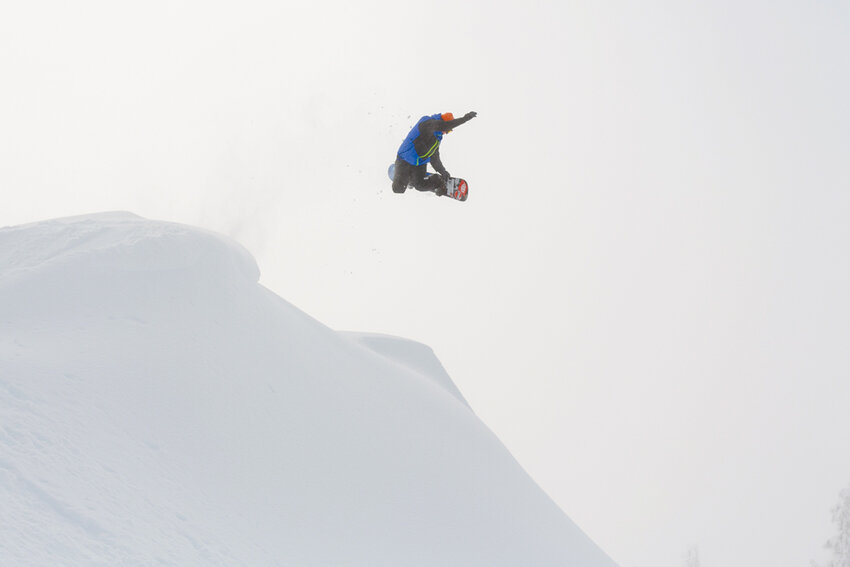 And so it was at what seemed to be the pinnacle of McCarthy's career that he quit professional snowboarding. He still had a few good years left in his body but McCarthy had made up his mind. He could feel himself slowing down and knew it was time for a change.
At the time, quitting the dream seemed odd to people who didn't know McCarthy personally. He was stepping away from getting paid to do what he loved, in exchange for what? Brent Sandor, 686's current vp of marketing, thinks McCarthy knew what he was doing all along.
"McCarthy is a super intelligent and driven human and he knew that snowboarding careers don't last forever, so I can only imagine he was scheming on how to snowboard forever and still get paid for it," Sandor said.
Back in 2010, McCarthy had already slid his foot into a crack in another door and was just waiting for the moment to open it up to a world of new opportunities. That winter, he persuaded 686 CEO and founder Mike West and then-vp of marketing Kristin Cusic to let him start leading team photo shoots.
"The first winter I hired the photographers, videographers, rented the place and picked who would come. I put it all together. When Mike and Kristin got the assets back they were happy," McCarthy said. He was now poised and ready to take the next step whether they knew it or not.
The next winter McCarthy again pulled double duty for 686 as a team rider and an interim team manager. In spring 2012, he kicked open the door to the next stage in his life and began his transition from pro snowboarder to team manager.
"They started bringing me down to Los Angeles and teaching me about marketing and team management," McCarthy said. "They knew during the winter I could do the team trips and make them productive. They believed in me so it helped me believe in myself. I knew that it would be the toughest in the early years of the transition but I read some books about making transitions and I could not be happier looking back now about the decision that 686 helped me make."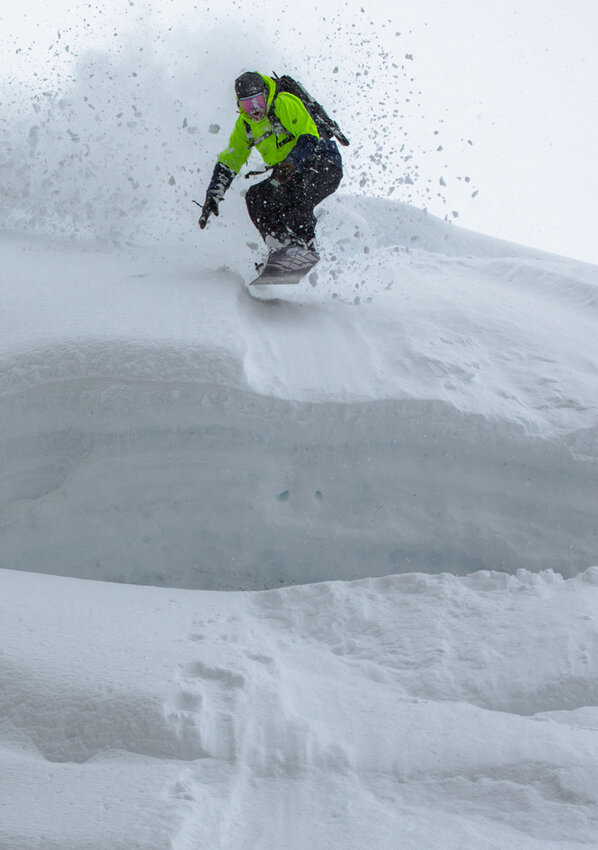 Four years removed from his career as a pro snowboarder, McCarthy has become a key part in the success of the company that means so much to him.
"Pat's positive attitude and work ethic are intoxicating. He has become a vital part in the reinvigoration of the brand over the past few years," Sandor said. "He keeps his boots on the snow and makes sure everything is progressing each winter. He is our number one flag flyer, a family member to us all and a mentor to the team. Possibly most importantly, he continues to make us all laugh and remember why we do this: because we love the mountains and outdoors."
For McCarthy it has always been about just that: love – love for the mountains and for snowboarding, and it has now come full circle and his purpose has been realized.
"Giving back to the youth, working with kids and making things authentic gives me a lot of purpose." McCarthy said. "Just like I had the amazing opportunity when I turned pro at 20, I want to allow the next generation to have the opportunity as well. My goal is to inspire people to get into the mountains, turn away from their phones and be out in nature living fully in the moment." x
---

Brad Andrew is a Bellingham-based freelance action sports photographer. He spends his winters chasing the snow looking for the perfect spot to make the perfect image. He is a husband, father and a student of life.