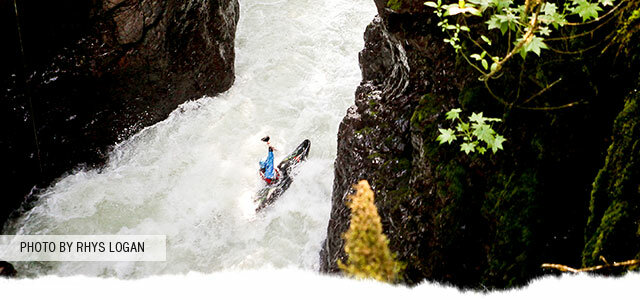 THREE RIVERS
Story by Eric Parker
Whitewater on the western slope.
The northwest corner of Washington encompasses some of the most rugged mountains in the northern Cascades and offers some of the best terrain for mountain biking, skiing, and hiking in the western states. Relatively few people know of the world-class rivers draining from our steep mountains. With a unique geological setting, large amounts of annual precipitation and easy access to many phenomenal rivers, the region is a great hub for whitewater kayaking.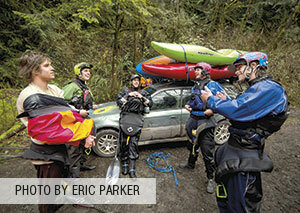 Water flows through the Cascades year round with seasonal floods in the fall and spring. Chris Tretwold is a local who has been paddling this region since 2001.
"From March to August there is most likely a river of varying difficulties flowing at a good level somewhere up here," he said.
Three of the county's finest waterways – the north and middle fork of the Nooksack and Clear Water Creek – flourish during these seasons.
The north fork of the Nooksack gathers melt water from Nooksack Glacier on the eastern slope of Mt. Shuksan. From here, it flows through stark canyons, flows over the 88-foot Nooksack Falls, and bends through evergreen valleys with spectacular views of Mt. Baker. Breathtaking landscapes and a variety of grades from scenic Class I to technical Class IV make it an ideal river for water enthusiasts of all skill levels.
Paddlers searching for something a little spicier do not need to travel far. About 25 miles down Mt. Baker Highway and up Mosquito Lake Road, they will find the middle fork of the Nooksack. This stretch is steep, technical, and stacked with challenging rapids. When caught at the right flows, roughly 500–1000 cfs, this river is a Class V playground. The upper section of the river pumps through steep boulder gardens, while downstream the river narrows and flows through a tight gorge, filled with quality pool-drop-style rapids.
Another Class V gem is Clearwater Creek, an exciting, low volume drainage that flows into the upper section of the Middle Fork Canyon. A small rib of sandstone among the surrounding andesitic rock valleys creates a unique style of river. The rapids are fast-paced waterslides with little flat water in between. Professional kayaker Fred Norquist, 23, describes it as "a bumpy luge through a steep sandstone track." From put in to take out, this run is only 1.9 miles long but packs a punch, dropping nearly 700 feet with 31 distinct rapids.
Tretwold summed up local whitewater well when he said, "I think Whatcom County is a great place to visit as a kayaking destination. If solitude is your thing, you probably won't see another person on the river other than you and your friends. And using the county as a jumping off point to rivers across the border and to the south just makes sense." X