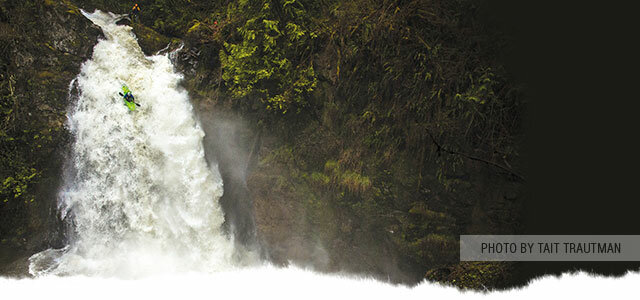 FIRST DESCENT
By Eric Parker, photo by Tait Trautman
Fred Norquist nails the first descent of Klahanie Falls.
The name of the drop is Klahanie Falls, on Bear Creek. It's a 50-60 foot waterfall with a fast paced, technical lead in. The pool is questionably deep and the drop itself is very difficult. After watching Fred and Brendan drop, I was fired up.
I charged into powerful curling waves above the lip and what felt like a split second later, I was soaring down the falls to the pool below. I took two strokes down the drop, tossed my paddle, and braced for impact. After a substantial hit, I rolled up and was immediately overwhelmed with joy and adrenaline.
Fred originally scouted this falls about 2 years ago and it was on our radar ever since.
— Eric Parker, 3rd descent
1st descent: Fred Norquist
2nd descent: Brendan Wells