We are extremely excited to announce our entry into one of the greatest competitions known to mankind. Here's our team: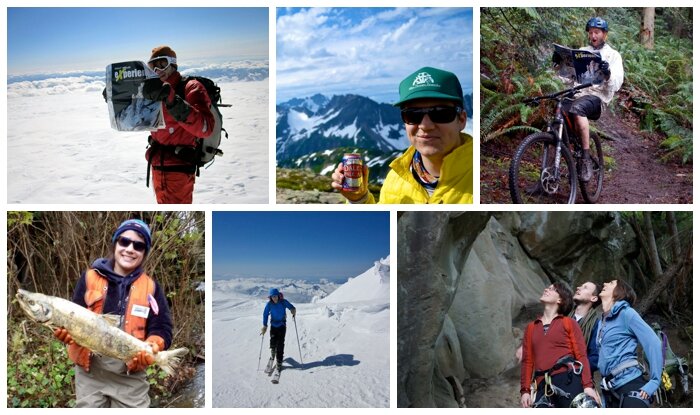 Clockwise from top left we have:
-Casey O'Brien, administrator and guide at American Alpine Institute will be holding down the alpine ski portion
-Adrian Duckett, beer connoisseur at Elizabeth Station / writer for Frequency, The Snowboarder's Journal will be bringing it home on the kayak leg
-Tom Pauza, soon-to-be Peace Corp teacher in South Africa will be shredding the xc biking section
-Pictured from left to right are: Kat Thorney, activities manager at Northwest Youth Services and Ian Ferguson, editor at Mount Baker Experience magazine, both of whom will be canoeing the Nooksack, and Sara Baker, manager at Goat Mountain Pizza will kick things off on the XC ski leg
-Mark Cionek, program coordinator and guide at American Alpine Institute is our intrepid road biker
-Finally, Lael Bialek, coordinator for the Nooksack Salmon Enhancement Association will be running down the mountain to assured victory.
We're entered in the Whatcom County Open division. Ski to Sea is on May 26th.