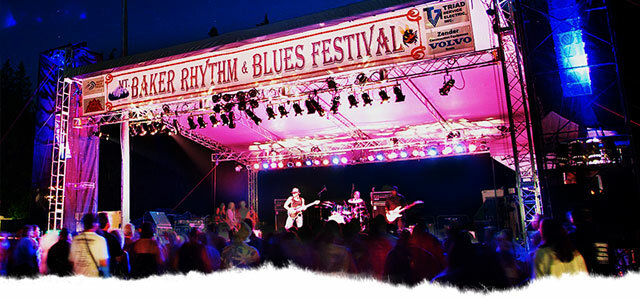 I HEARD IT ON THE HIGHWAY
Summer music festivals on Highway 542.
On winter mornings when the snow is dumping in the mountains, cars flow single file down the whole length of Highway 542 to get the goods.
A similar effect happens periodically throughout the summer, especially when major musical acts perform at a few of the area's biggest musical gatherings. Highway 542 hosts a variety of music festivals, and you might be surprised at some of the stars making the drive this summer.
East 542 Music Fest
July 12 and 13
Deming Log Show grounds
Steve Augeri, former lead vocalist for Journey, and Fran Cosmo, former lead vocalist for Boston are two highlights at the 2nd annual East 542 Music Fest.
The fest features renowned rock and country acts both local and international, but and a non-stop schedule of performers. Beer gardens, a mechanical bull, an international wood carving contest and a pancake breakfast are all on the docket.
East 542 Music Fest provides a range of music from classic rock and country to popular dance music.
Country star Jamie O'Neal was recently added to the lineup, and brings her soulful voice and captivating stage presence to the star-studded lineup. O'Neal has been nominated for four Grammy awards, and has toured with Reba McEntire, Kenny Chesney, Martina McBride, Alan Jackson and Toby Keith.
Some of the nonprofits involved this year include local food banks, Mount Baker youth sports, Summit to Sound Search and Rescue and Allied Arts of Bellingham.
Tickets for two-day admission are $85 for the bleachers and $95 for the concert bowl. Camping fees are $35 for non-hook up camping and $55 for hook up camping. Parking is $5.
More info: 542musicfest.com
Mt. Baker Rhythm and Blues Festival
August 2–4
Deming Log Show grounds
Get your fix of legendary blues acts at this year's Mt. Baker Rhythm and Blues Festival. California Transit Authority, one of the festival headliners, is a powerhouse collaboration between Chicago co-founder and drummer Danny Seraphine and guitarist Marc Bonilla.
Other acts you won't want to miss include young superstar Hamilton Loomis and the virtuoso Kansas City trio Trampled Under Foot.
The Blues Foundation honored the Mt. Baker Rhythm and Blues Festival with their 2013 Keeping the Blues Alive Award.
A pass for the whole weekend, including camping and showers is $125. A Saturday pass is $65 and a Sunday pass is $60.
More info: bakerblues.com
Subdued Stringband Jamboree
August 8–10
Deming Log Show grounds
Since 2001, the Subdued Stringband Jamboree has featured all the best local string bands, "with a few blow-ins to kick us in the pants," according to their website.
Last year, Bellingham favorites Polecat performed alongside the likes of J Wagner, Pretty Little Feet, John Elliott and Cajun Country Revival. If you hanker for mighty fine pickin' and singin', this mellow festival is a can't miss. Workshops, kids activities and food vendors round out the three days of festivities.
Check the website for updates to this year's lineup and prices.
More info: stringbandjamboree.com X